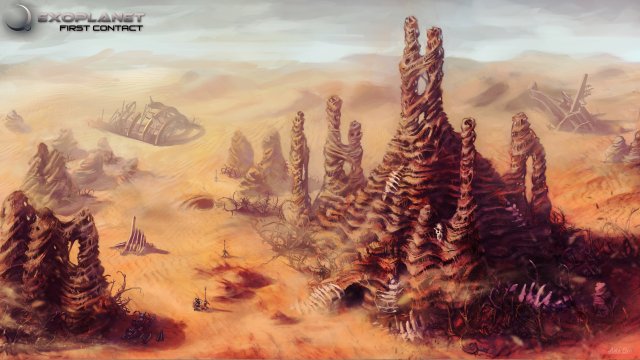 Among the many attractions on K'Tharsis that shows anyone for reasonable cost there is something that locals call «living hills». In fact, these structures are nothing but nests of Silpha Alatum beetles (wingless carrion). Constructed in a special way, they are able to cool subterranean dwelling, allowing these insects to survive in the extreme conditions of the desert. The central tower of the colonies can reach fifty feet tall, sometimes more, and underground tunnels can extend for many miles around.
Biting beetles (as they are called in polloi) are new inhabitants on K'Tharsis by the standards of the evolution of living species. They appeared on the planet about 700 years ago, imported by colonizers as well as many other representatives of intergalactic fauna. Initially, this species used to live on a small Earth-like planet Tigo, located in the Rider system. Contrary belonging to the kind of carrion, these insects are able to hunt some quite large animals. Moreover they are cultivate shiobe mushrooms that used as a cheap substitute of potent synthetic antibiotics. This feature was the reason why Terraform corporation widely used the biting beetles, sought to extend the short lives of the slaves who worked in the mines. Initially, the "white knights" were planning to create artificial carrion farms, but later abandoned the idea, collecting shiobe in existing nests.
Insects quickly adapted to the new conditions, significantly increased its population in a few years, despite the fact that they have become a favorite food to arphants who can devour beetles in large quantities.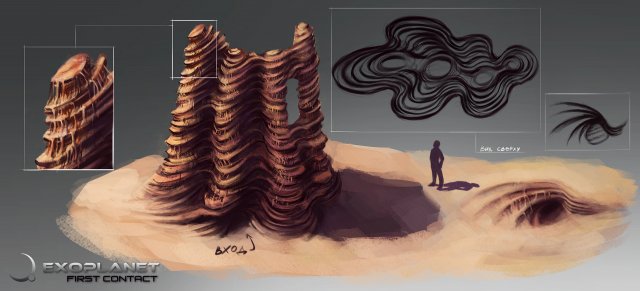 Like every social insects, carrion colonies have their own structure of castes. The foundation of any colony is the queen - the largest individual in the nest that can lay about hundred eggs every day. However, only some of them will give offspring - the rest become food for the queen herself, thus regulating the number of colonies. Due to the increasing abdomen, egg laying queen loses the ability to move, and if necessary she can control a dozens of workers by pheromones.
Insemination of queen engaged a few representatives of a caste of drones. In fact, this is their only important function that is why they have a short life become food for the ravenous female after mating.
Workers are busy with gathering and storing food, growing mushrooms in underground plantations, also they care of offspring, engaged in construction and repair of the colony. As well as soldiers they are able to protect the nest from enemies: their bite causes extreme pain to the victim. Looking for a food carrion workers are often seen in the desert by inhabitants of K'Tharsis.
Soldiers are larger than workers. They have enlarged jaws as well as more durable chitinous shell. Furthermore, they are capable to spitting acid dissolving organic tissue. Their main goal is protection of nests from any danger whether it hornhog, arphant or even human controlling an excavator. Aborigines of K'Tharsis often executed criminals, binding them near the nest: the soldiers regard trespassers as a direct threat to the colony and kill them and then the victim becomes food.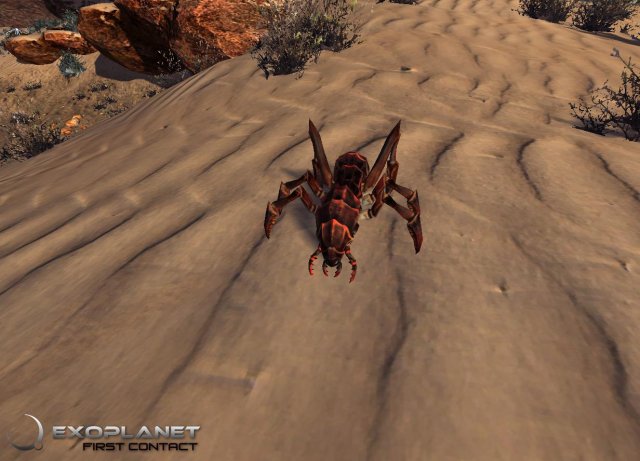 Usually travelers try to avoid large colonies of these insects but some madmen specifically crawl into the nest in search of values ??that beetles dragged along with carrion. In order to deter carrion they use secret combination of herbs and other ingredients or send remote control robots to the tunnels.
Carrion colonies located near settlements become real scourge for people. Those who want to get rid of them invite aboriginal versed in the manufacture of poisons deadly to bugs as well as other methods of baiting. Using this knowledge he tries to kill the queen. Usually it is poisoned lure, sometimes he pumps neuromuscular paralytic gas or toxic waste but even these methods do not always give satisfactory results: in most cases beetles just migrate to another area. In addition, the carrion able to learn and quickly adapt to poisons, that is why aboriginal people have to repeatedly invent new tools.
However, some residents of K'Tharsis are able to benefit from such a neighborhood. Inventive people catch and train beetles for competition where they have to run a race on difficult routes marked with queen's pheromones. Usually it is carrion workers who participate in the race, rarely soldiers with removed glands that produce acid. This form of entertainment has quickly gained wide popularity: gamblers created a tote by which the most experienced and successful trainers can earn quite a fortune.