THE SITUATION
We've shared in everyone's excitement for Liquid Cubed's prospects in Minecraft; however, the further we've developed progressive systems and parsers (with much still left to do), the more we've recognized that the modifications to Minecraft's rendering engine would be a very large operation.
In combination with Minecraft's advanced stage of development and Mojang's goals for the game's release, we've concluded integration in the end is unrealistic at the present time. We'd be willing to consult with Mojang regarding the liquids if they were interested, but up to this point they are not, and we have to move on.
A NEW HOPE
We first fell in love with the freedom of voxels in Zach Barth's Infiniminer back in 2009. A whole slew of limitations forced upon games were suddenly broken with Infinimer's concept "everything matters", and it was nothing short of brilliant. The real inspiration for us however, came from the game's infamous lava.
While expanding upon the concept of a more advanced liquid algorithm, we spent the next couple years modding Infiniminer off-and-on with many other little hair-brained ideas. Having contemplated adding "constructable flying blimps" in the Fall of 2009, we were led to an even crazier string of thoughts:
"What if you were mining an asteroid instead?"

"...What if you could walk around a starship you built from stem to stern, power conduit to warp engine, and every part of the ship actually matters?"

"...What if you could suck people out into space, blast apart a ship's power arteries, cut a ship in half, work together with your buddies to hold off a boarding party, raid derelict vessels for parts, and land on procedurally generated planets to force the locals into digging up gold for your intergalactic conquest!?"
At the time, the wishful ramblings of a 'pure voxel starship' game seemed ludicrous, and since 2009 we've added quite a bit to the wish-list for a "Starship: Infiniminer". But after testing the necessary components in Liquid Cubed, gaining several years of experience within the voxel environment, and building a plan that will support the long-term development, we believe we're capable of pulling off this ambitious concept.
BLOCKADE RUNNER
What will follow for the tentatively titled "Blockade Runner" should be familiar to those already experienced with agile indie projects: Rapid development builds, the indie-funding-formula "pay less now for alpha", and a team forgoing the publisher's capital investment to ensure the bold vision is never lost to 'market appeal'.
Full-time work on Blockade Runner by Nathan has already begun, with an in-development version of the game being prepared for release on April 11th . The six month plan is to focus on multiplayer with build-able, crew-able, functioning, "living" starships using cellular automata. This will then lead to further development sprints reaching procedurally-generated stations, planets, and beyond.
More information on Blockade Runner will be available as the new ZanMgt website is unrolled during the next few weeks.
THANK YOU
We'd like to thank everyone for their support for Liquid Cubed. Your help and suggestions have been an enormous blessing and are very much appreciated. Although we're disappointed in having to cut Liquid Cubed short of meeting our stated goals, we're very excited about the future and hope you'll join us in the development of Blockade Runner!
In the meantime, please enjoy Liquid Cubed 1.0.4c!
– Aaron Harris,
Creative Director, ZanMgt
UNDO
Rejoice! When the line tool accidentally flies off you can now revert the mistake! Press CTRL+Z to undo the last tool events, press CTRL+Y to redo the tool events.
Note that water will not be affected by undo (although you can undo a water conversion).
You can alter the default number of undos inside the Settings.xml. Some of the tools can take up more RAM than others, so use discretion when altering the number of undos (100 should really be more than enough).
---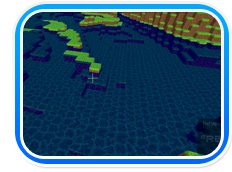 POLYGONS SEALED, AND RESEALED
A superior form of sealing the water polygons was constructed in the past two weeks. This was to resolve a coding issue as well as provide a solution for dynamic and smooth water, which will now be carried onto Blockade Runner.
---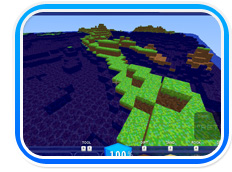 IMPROVED PERFORMANCE
A parsing mechanism that works in combination with the polygon sealing now helps to reduce the GPU load considerably. Liquids closer to the player will update their visual status faster than the liquids in the distance.
If you do something absurd (a floor of water across the sky), you might see some absurd results. In this case, water floating in the air for longer period of time, but this parser is meant more for slower machines.
---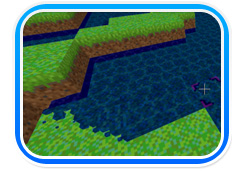 DISSOLVING WATER
The special effects for water dissolving in the 16x16x16 course is now available in the larger courses as well. You can press the "L" key to cycle through the different levels of the special effects.
---
SHADER 3.0
We had listed Shader 2.0 as a minimum requirement, but after reviewing the amount of instructions we were sending to the GPU, Shader 3.0 is unfortunately the lowest Liquid Cubed can use as a minimum requirement.
---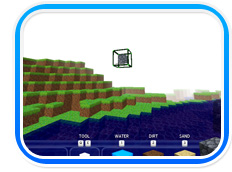 SUMMON BLOCKS IN THE AIR
Blocks can now be created in the air without having to build off of a block. With the Line tool, this allows you to fire a line from where you're standing to where you're looking.
---
PRIORITIZATION RESULTS
Undo functionality was a "fun feature" added in this version of Liquid Cubed. Even though all new development is focused on the new game, I still wanted to share the ranking results of everyone's combined prioritization lists for those who are interested:
Thanks for prioritizing: Ludsoe, CMD Keen, Nukepb, Nick650, Duartel, and SairenSA!
A. (-1.3) More Blocks
B. (-2.7) Improved Liquids
-- (+5) Undo Functionality
C. (+0.7) Perlin noise terrain
D. (+2.2) Walking/swimming/collision
E. (+3) Some More Tools
F. (-2.2) Re-designed interface
G. (-1) 2D Sprite Critters
H. (-4.3) HD Visuals