LibreCoop 1.2 is finally here!
For those who don't know LibreCoop yet, it is an Open Source coop mod for Dhewm3, and if you ask "why yet another coop mod if we have already some?" then the answer it's simple: Because this one it's the only one who is totally Open Source and GPLv3 Licensed, and also who works with the dhewm 3 source port.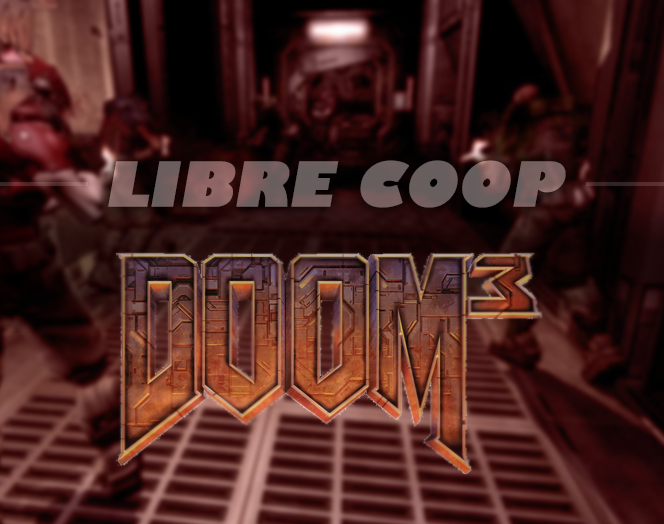 Download LibreCoop for Windows 32 bits
Download LibreCoop for Linux 64 bits (Compiled with Ubuntu 18.04)
What about other OS?: Compile for your favorite OS with the source code of Alpha 1.2!
Features of LibreCoop Alpha 1.2:
Cinematics partially working (some bugs to be fixed yet)
PDAs
Runs the whole Doom 3 campaign
Works with ROE too (librecoopd3xp, not tested enough though)
Survival Game Mode (where you can play with a limited ammount of lives)
Coop Game Mode (Infinite ammount of lives)
Improved IDTech 4 netcode a bit to help players with high ping.
Fast Monsters option (False by default), monsters are 50% faster and projectiles are 25% faster too.
Damage Factor option (default 1.0, g_damageFactor): used to make monsters do even more damage for a real challenge.
Open Source!!
Easy to make it compatible with custom maps, since LibreCoop barely uses custom scripts and .def, it is really easy to port custom maps with custom enemies to work with LibreCoop. (Actually all custom maps that work for OpenCoop should work with LibreCoop)
Uses the original OpenCoop 2.0 alpha + 2.1 patch maps to ensure a better coop experience while playing the original Doom 3 and ROE campaign.
Works with Dhewm3 1.5.0 and Dhewm3 1.5.1RC2 (recommended to use 1.5.1RC2)
Gameplay video:
Of course this is an Alpha release yet, and we expect some bugs to be found and fixed, so I'll be happy to read some comments related about bugs or problems to fix, this is an Open Source project so anyone can help and that's the idea.
Thank you!