Hey everyone,
let me take this chance of introducing myself!
My Name is Mark Peterson, I'm one of the founders and CEO of VisionaryX.
On "a Knights Dawn" I'm responsible for the Game Design and as such I'd like to give you an insight into "Level Design – the VisionaryX way"
When designing a level for "a Knights Dawn" there were several things we needed to keep in mind.
One area that is rather unique to AKD is the visual depth and the multi-"story" component of our levels.
We also wanted to have really, really good looking levels, levels that weren't built from a few building blocks and then copied over and over but actually levels that had an organic look and feel to them.
This meant we needed an unusual amount of planning before we could create any level assets as we needed to be sure the levels could work before starting the actual painting.
Of course at the early stages we didn't have a prototype to work with so I tried different ways to work around it.
What worked best was creating a level inside a very popular strategy game, I tried to mimick our games base principles and then used this as a balancing and prototyping module to create a solid base for our levels.
Now that I had a basic understanding of how a level could work the actual Level Creation began:
This involved 6 basic steps:
1. Using all the raw data for a level I come up with a basic sketch for the level paths.-> the UaA-Paths ( or more commonly known: ugly-as-ass paths)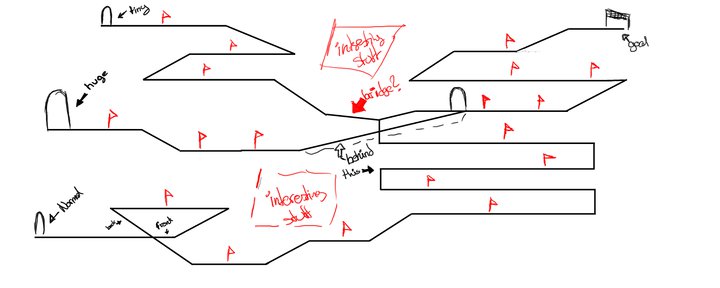 the UaA-Paths = ugly-as-ass paths
But it does the job.
2. This is were it gets interesting, our talented artist Michael takes over and starts his magic. However this usually starts with him weeping and then praying to the lords of apple to give him inspiration.
This never works ( I keep telling him but he won't listen) , so he resorts to the next best thing: Sitting back and thinking, trying to figure out if my weird ideas are even possible and if they are how?
3. After he has an idea of where he wants to take the level he starts preparing it for the actual work. This means modifying the paths to ensure they work in "3D"-Space and don't collide with the game design and game mechanics.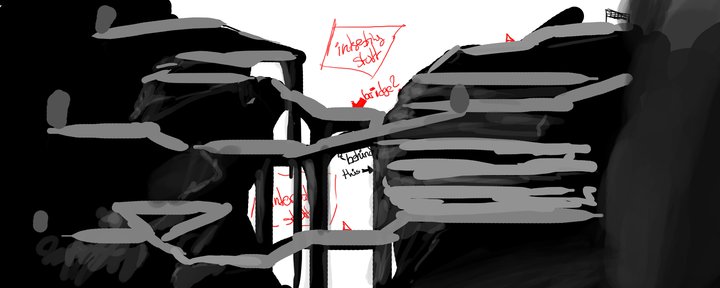 Starting the magic...
4. The actual painting begins, Michael begins to scribble linearts, color moods, setting ideas etc, we then discuss his ideas and as soon as we agree on a certain direction he finishes the base lineart for the level.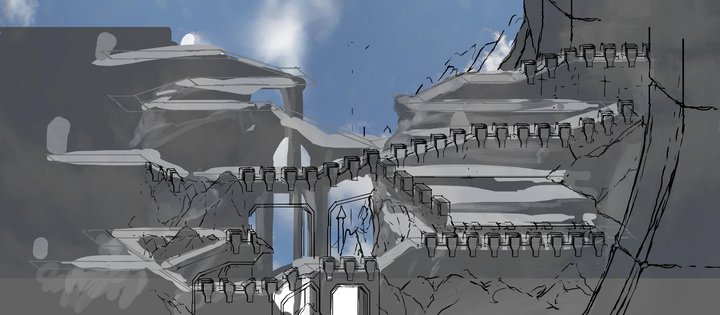 Mmmmh, details...
5. After we successfully finished all of the above steps Michael starts fleshing out the level.
He adds color, depth and all the tiny and interesting details, giving the level its characteristic look. This step usually takes the longest and involves a lot of tiny changes but is also the "easier" part as its mostly just work, work and work.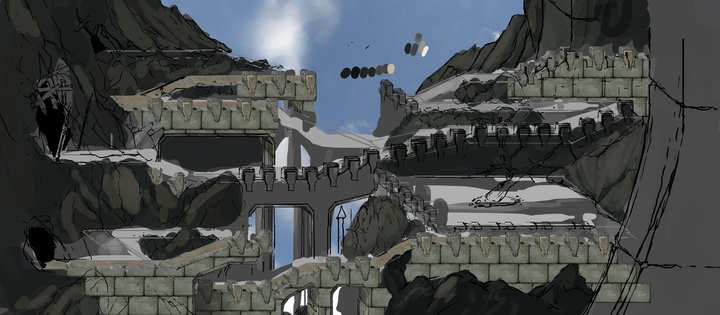 Almost there...
6. This definitely is the most annoying part: He now has to cut and slice the levelimage into dozens of tiny pieces so that I can then arrange it within the Unity Engine. Not a lot of fun but so far we don't have any interns to help him with that.
At this point I will take over and assemble all the pieces within Unity and make sure they all work.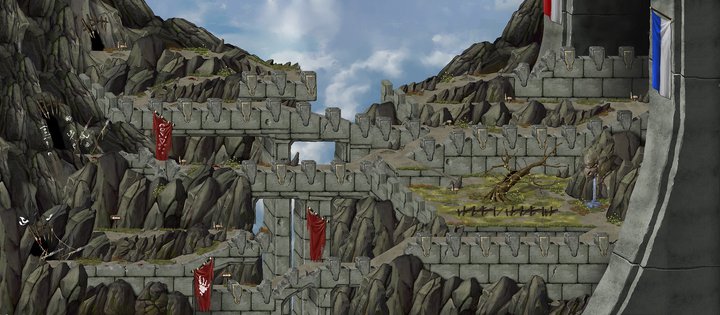 Level finished. Ready for Battle!
So this is it! A little insight into all things Level Design :)