CRYSTAL CAVES
My intention with this level is to create tight spaces, to teach the player to dodge projectiles and fight enemies in enclosed spaces.
This level will be encounter around the middle point of the run, and here things start to get serious.
There you can see the layout of one of the three iterations of this level (#madewithunity, by the way :)). Lots of crammed places and tight corridors will test the players evasive skills and present a different type of challenge. If you check out the screenshots I uploaded in my first article, you will realize that most of the other levels are more open.
This level also introduces new enemies that will enhance the theme of the caves and test the player in new ways. Here are two of those new enemies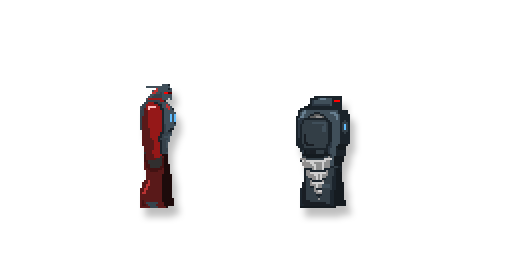 To the left we have the Digger, this unit cannot shoot, but it hits really hard and can teleport to track its enemies. To the right we have the Elite Guard, this is a very advance robot, design for warfare. It can shoot projectile as well as hitting its enemies directly or with an AOE (area of effect) attack.
The Crystal Caves get their name from the ice crystal that take form in its vowels. I have been working in the ice reflections and the method I used is describe in this great tutorial from youtube Making Stuff Look Good- Spelunky Ice Cave Crystals. I've always love the ice caves from Spelunky, and when I saw this video I decided to give it a try. I did some modifications to the shader and the general effect, but it is in essence the method explained there. I've also done some invert reflections for the ground.
I've even use a similir technique to create a third unique enemy, the Crystal Bug. It uses reflections in its armature to make it more crystal-like.
Parallax layers in this level are very subtle, but they add a lot of depth, and I added some fog to enhance the mood.
I'm also working on a spell: 'Earth Shatter', this one in particular will be very useful for breaking a path in enclosed spaces full of enemies
After this level is complete the game will be roughly 80% done. I still need to work on one more level and its variants and a few more spells and upgrades. Then some sound, music and a couple of enemy units.
Please vote for Commander Tiberius Troubleson on greenlight, I would really appreciate your help.
That is all for now!
Follow the develepment on Twitter
Thanks!
Jose