Level 2: Donut Perp / Double Donut Eater
I released Level 2 on Christmas Day, my treat to everyone! (despite not a lot of people playing it, lol)
But the real fun started when I uploaded it to itch.io! It somehow made it's way onto the main page for a few days and got almost 2000 views (according the Itch analytics) in just over a week. I don't say this to brag but am excited to share how motivating that is! Solo gamedev as a hobby expecting to make a hit success sounds like a pipe dream but making something small that people appreciate motivates me to think maybe I'm starting something that may have a bit of success!

If you haven't played let me share the links so you don't have to search through the article:
On Itch: Loubagel.itch.io
On Lou Bagel: Loubagel.com
I've also gotten pretty much only positive feedback with the exceptions of a few bugs that I can't find when I test. Mostly it getting stuck on text boxes (text box won't go away so can't continue) and once getting stuck behind an NPC. So much better than how Level 1 turned out! Level 1 mostly got feedback of very frustrated players except for the few that absolutely love a challenge, even frustrating challenges.
What's Next?
If you think "Level 3" is the logical answer then prepare for the unexpected answer, which I usually give.
Instead of adding on a Level 3 as a separate file I am going to work on combining Level 1 & 2 into the same file with no hard break in between. While doing this I am going to be adding a level (so to speak) for each character. This means since there are six characters in level 2 I will basically be adding 4 new levels. The first two will be fairly simple so to be like tutorial levels. The 3rd will probably be level 1, maybe making it a bit easier or less frustrating. Then 2 more levels and the sixth will be what is now level 2.
If that got a bit confusing, take a look at this GIF of what I was working on today and a simpler explanation below: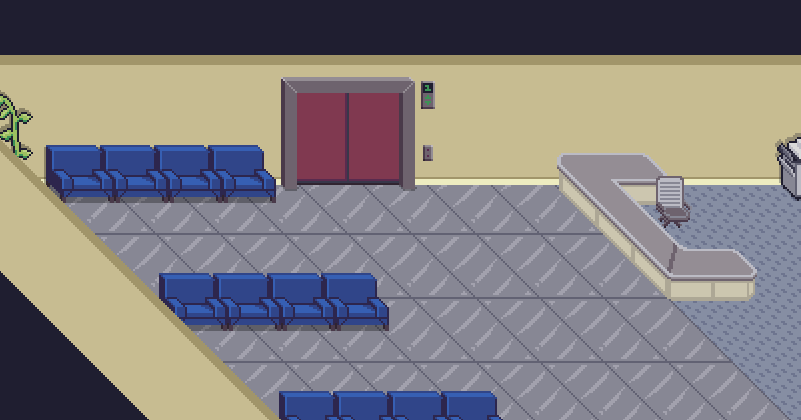 So the new flow is expected to go like this:
Out pops a worker from the elevator
You now control this worker
You will get objectives to complete (will vary in type and difficulty)
Once completed a short "ta-da" congrats or short scene to wrap up that story
You no longer control this worker
Hear the elevator ding, camera pans back to elevator with new worker to start over these steps
I'm hoping this will create a fun flow to the game where you feel good for achieving the objectives and also excited to see who is next. It may take much more work than I expect though because the idea behind the levels in separate file was partly because I'm a new developer and can get away with some sloppy coding by separating the files :D
I'm also toying with the idea of if you "fail" an objective that instead of restarting that "level" you still proceed to the next character and that worker is just now grumpy (or something). So if you fail to get Dave his coffee instead of having to start over now Dave just doesn't have his coffee and is stuck in conversation with Chatty Cathy. This may make him act differently in the following "levels" or maybe just changes what he says to be a bit grumpier. I love the idea of changing NPCs behaviors dynamically like this but basically creates exponentially more possibilities that need to be carefully coded so may hold off on this part until I have a much more solid understanding of the final goal.
Wrap up
That's really all for now. Just wanted to post on here since I never really did when Level 2 was uploaded but also to let anyone interested know what is next.
Since I don't update often on IndieDB I'll share two ways to follow this closer:
Twitter: Twitter.com
Most active on Twitter and usually respond to any comment or mention if you ever have a question or feedback or something.
Facebook testing group: Facebook.com
I haven't used this much yet but the goal is to upload WIP playable chunks/demos type of things to get feedback on (or report any bugs). I'm also open to hearing any ideas, especially about things that frustrate you at work :D Small group but the goal isn't to get big but to get a few testers before uploading to the masses.
Thanks for reading and playing!