At a certain point in the development of my mod I thought that I would put aside the national focus tee to focus on the visual aspect. So I started looking for all the portraits of every historical leader in every country in the game, including those I added.

Then I came to some minor countries and realized that it did not have a leader for such an ideological party as fascism or democracy for Asian countries for example.

I've corrected that deficiency! I did an intensive research on the political leaders of each party and country to add them to the games and gave them back their place. I also took the liberty of appointing leaders from certain countries according to their role and status at the time.
For example, France did not have Edward Daladier as president in 1936 but Albert Lebrun, so I added it.

Now you're going to tell me,"yes, it's nice but now I'm going to be with an Albert Lebrun until 1960 and my Charle de Gaule will never come!" and you'd be right, except that I also added a code to the games allowing key dates to change political leaders by following historical facts.
For example: Albert Lebrun automatically leaves his seat to Édouard Daladier from July 11,1940.)

(For the moment only France has this feature)

As I said earlier, I have also added a new political leader for countries that do not historically contain it.
For example, the Manchuku does not have democratic leaders, so I invented one.
It's going to take a HUGE amount of time to implement because you have to make a code for each new leader and there are many of them. I take Bolivia, for example, which between 1936 and 1965 changed more than 17x leaders.
---

I also developed the history of my alternative history and therefore made the changes accordingly.
I am therefore pleased to inform you that in this world, Canada is free and sovereign, but not called "Canada", but Vesperia. Its borders are being changed due to historical developments and its geopolitical situation is also changing.




Vesperia Flag

To know more about the details of the events that led to this change, I invite you to read the history of Jerania available for download and updated in real time.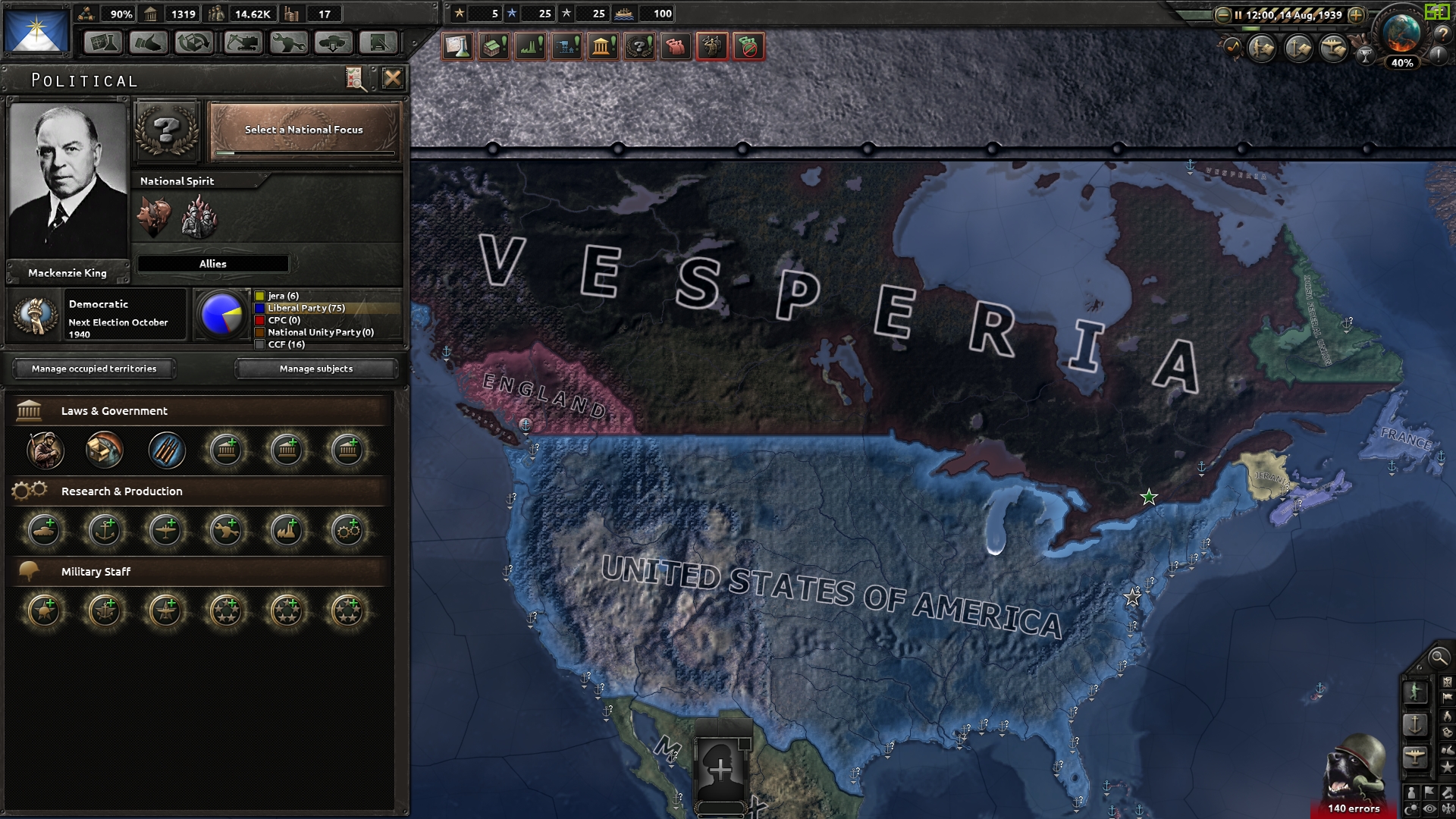 A lot of changes and improvements will come later but you will have to be patient because without help and being the only one working on it, it will take me a lot of time.


Once again, thank you for sharing to love and give me your advice and opinions that helps me greatly.