Today a brand new skin for the Lemat by Insulaner. In other news, I am finally done with fully reimplementing the lost/recovered sourcecode so things should speedup now.
If you want to know more check my .plan (link below). We also provide an rss news feed now, should anyone be interested.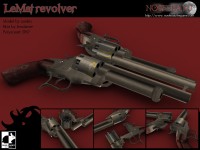 Parapraxis brings us a new track from the Nosferatu Soundtrack (a favorite of mine btw.), and I just updated my .plan again to give you the latest inside view.