What's new?
Today I'll give you news about boss battles and a new way of competition among players.
Ultimate Boss Skills
Bosses now have ultimate skills with a big AoE, requiring some practice and good reflexes to be evaded. To compensate the power of screen filling damage skills, bosses have to channel them beforehand. At the current stage of development you have about 2 seconds to find a good position: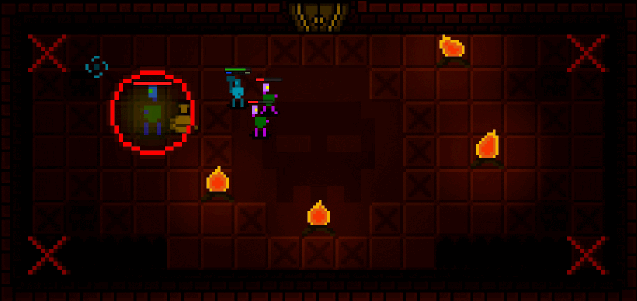 Every boss has one or multiple ultimate skill patterns, so it might be a good idea to be super careful when fighting a boss for the first time. A red "X" indicates the starting point of a shot.
Ghost boss pattern, multiple shots flying horizontally:
Oh, did you notice that ghost enemies have a new sprite? I didn't like the old one...

The endboss of the first dungeon has multiple patterns. One pattern emits vertically flying shots, the center of the room is a safe zone:
Competition
Competition among players is a cool thing in multiplayer games. There already is PvP in Legends of Pixelia and you are able to compare your hero's stats.
I wanted to add a more direct way to compare player's skills in PvE, something that works synchronously and asynchronously. So I decided to give the players some extra data when finshing a dungeon: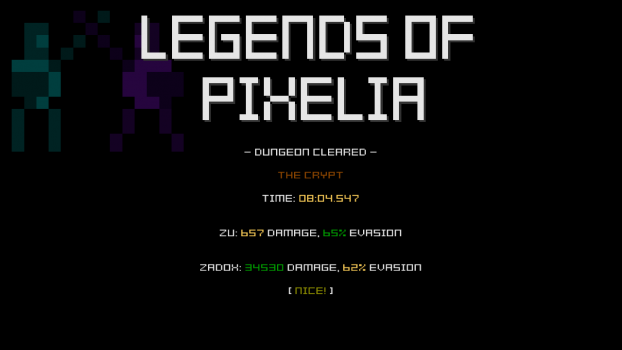 You get info about the total ingame time (timer stops in menus or when the game is paused) required to clear the dungeon and the damage and evasion rating of every player. In the example above, "Zu" did a better job in evading enemy hits, whereas "Zadox" did alot more damage to the enemies.
To be able to compare asynchronously, you get info about the best time and the best evasion rating (which can be from different runs) for every dungeon in your dungeon select screen: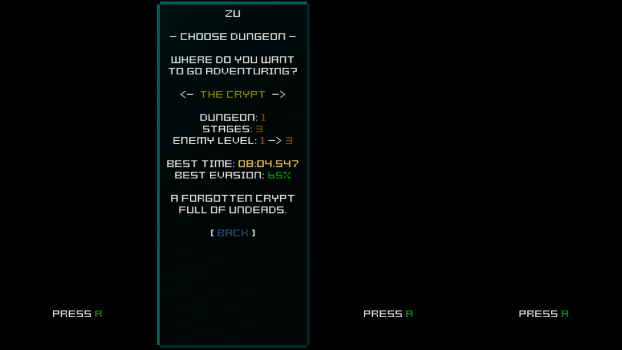 Did you finally manage to evade every single shot and scored the 100% evasion rating? Great! Take a screenshot and brag about it in the internet.
That's it
I hope you enjoyed reading the news. I'm working hard to be able to release an early demo of the game soon!
-Sima