Hey guys, in this article I will be showing hopefully the final primarily art update as well as talking about the current full core and extended team. From here on out (considering the new team members) there will be more frequent and gameplay driven updates!
So what's new with the team? We'll start with the bad news, unfortunately do to working/moving circumstances Javier (the main programmer up until now) has had to step back and take an advisory role on the project, hopefully in the future we can bring him back on as an active developer. Now for the good news...
We have me, Jordan, who handles art, management, other random stuff. We also still have Jeroen :) . And now three new members, two of which are core, Wesley, who will be handling procedural generation among other things, and Sam who is working on our animation system currently. So two new programmers and our 2D artist, Jacky (who has done the lovely grass you will see in screenshots further in the article). Our last, and arguably most important (since I love tunes), is still Alie, our sound and music guy. This has the team fully complete with four core members, an artist and three programmers, and three extended members, our 2D artist, sound man, and advisor.
So what's new with the art and is the style finally set in stone? I think so yes, there will be minor tweaks here and there I'm sure, but generally, with the new shader, it's been set. Using a fantastic Unity addon "Shaderforge" and using their custom lighting solution, after some slaving away I was able to come up with a fantastic multipurpose toon shader that gives the results I was looking for. This includes specularity on metals, generation of highlights and lowlights from a normal map, to normal power control. You can see the shader in action in this GIF.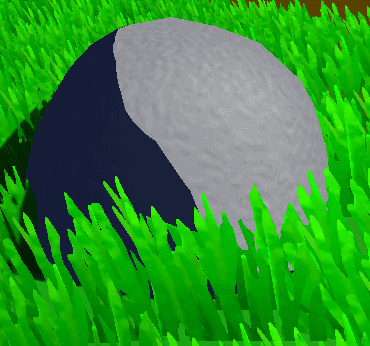 And some actual implementation of the new shader...
Thanks for reading :) .