Update 6 is coming, when? - When ready and not a moment too soon.
Yes, those things (games) take time, even for a big team with hundreds of employees and I'm working on this almost alone.

All the graphics, animations, storytelling, gameplay mechanics, AI, all the levels and scripting is done just by one guy - me. A friend of mine, VIS is making the music and other friends help me with sounds, story editing, game testing, but that's about it.
The best I can give you is a rough estimate - about couple of weeks.

Now that we got this out of the way, let's get to the fun stuff - the progress and what's coming in the next update.
First off I want to say, the identity of Leaden Sky didn't change - it's a single player, story based side scrolling shooter as it always was, but the upcoming Update 6 is much closer to the original idea of horror mixed with super solid combat and unique atmosphere.
The list of improvements is pretty damn big, I have improved numerous aspects including graphics, animation, controls, character movement, AI, sound effects have been remade and I'm also using new music now, aside from that the story has been much improved and slightly changed in certain aspects, but we will get into that later.
In general the game has been completely scrapped and entirely rewritten about 10 months ago, not a single script was left.
But it was worth the effort, improvements, especially in terms of performance and stability are huge,I made brand new animation system, new rendering methods and level design techniques.

Just take a look at the progress!
Speaking of level design, I understand that previous updates of Leaden Sky didn't have the best levels, they were mostly flat, repetitive, ugly and didn't have much variety or gameplay elements.
But this has GREATLY changed, I made new levels work well with the gameplay, provide good balance and variety, I also added bunch of interesting puzzles and events, not to mention the visual improvements which help new artstyle to truly shine, just take a look:

Those are just couple of screenshots, notice how much variety there is now, all of this is matched with proper music and tone to build a strong, unique atmosphere. There are many more unique areas present in the upcoming demo
So yes, very good stuff is coming, but what about the story?
It has large changes and improvements, this time it's going to be much more grounded. Leaden Sky tells a story of a small Polish city that's being consumed by anomalies caused by a modified power plant which emits unknown energy sources. As seen previously, you take the role of Kyle Anderson - ex black ops soldier who tries to save the city and his family. On your path, you will encounter enemy forces, various monsters and deadly anomalies.
The story will be told through environmental storytelling, through the use of notes and hand-drawn cutscenes complete with full voice acting. Here is a small sneak peak into one of the work-in-progress cutscenes (I make the art and voice act Kyle, those two characters talk in Polish because it's their original language, you will hear english when appropriate. Keep in mind it's still going to be much improved):
Alright, hope you liked that, now the other thing I want to mention is a pretty big game changer - new inventory system - RE4 inspired which is going to take the game into another level, enforcing horror survival.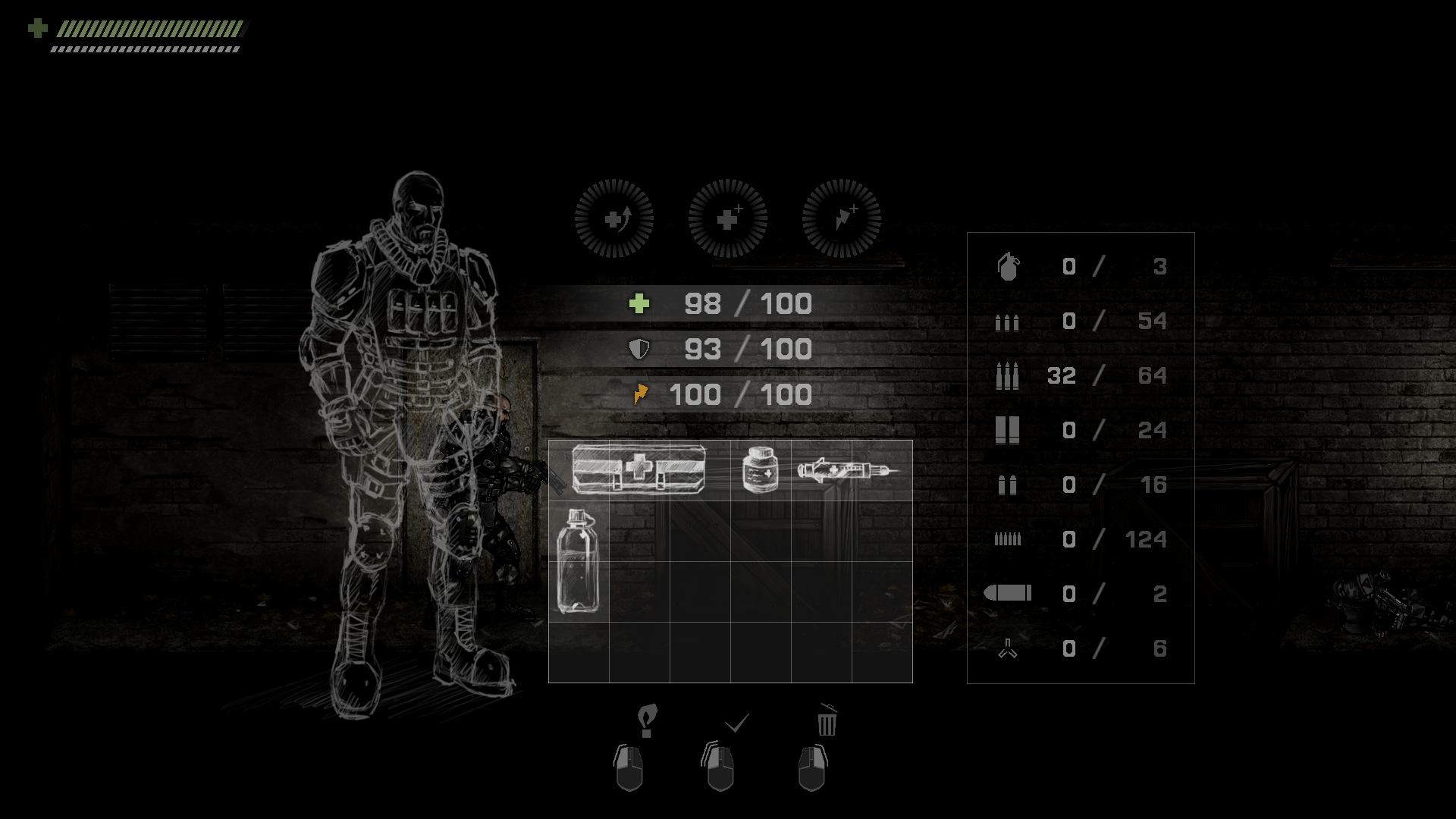 And the last thing I want to mention is that I'm also working on a trailer, here take a look:
I'll give you updated gameplay video when it's ready to be presentable. Alright, that's about it, cheers to all my true, supporting fans and also screw the haters :D
See you soon!