First post here---first of many? Whether or not this blog ever goes public, I should start off by saying that this is anything but public right now. I've built prototype after prototype for years with Unity3D. I haven't released anything in years, and I've suddenly been inflicted with an itch to complete a game.
The story is loosely fleshed out. The mechanics, even less so.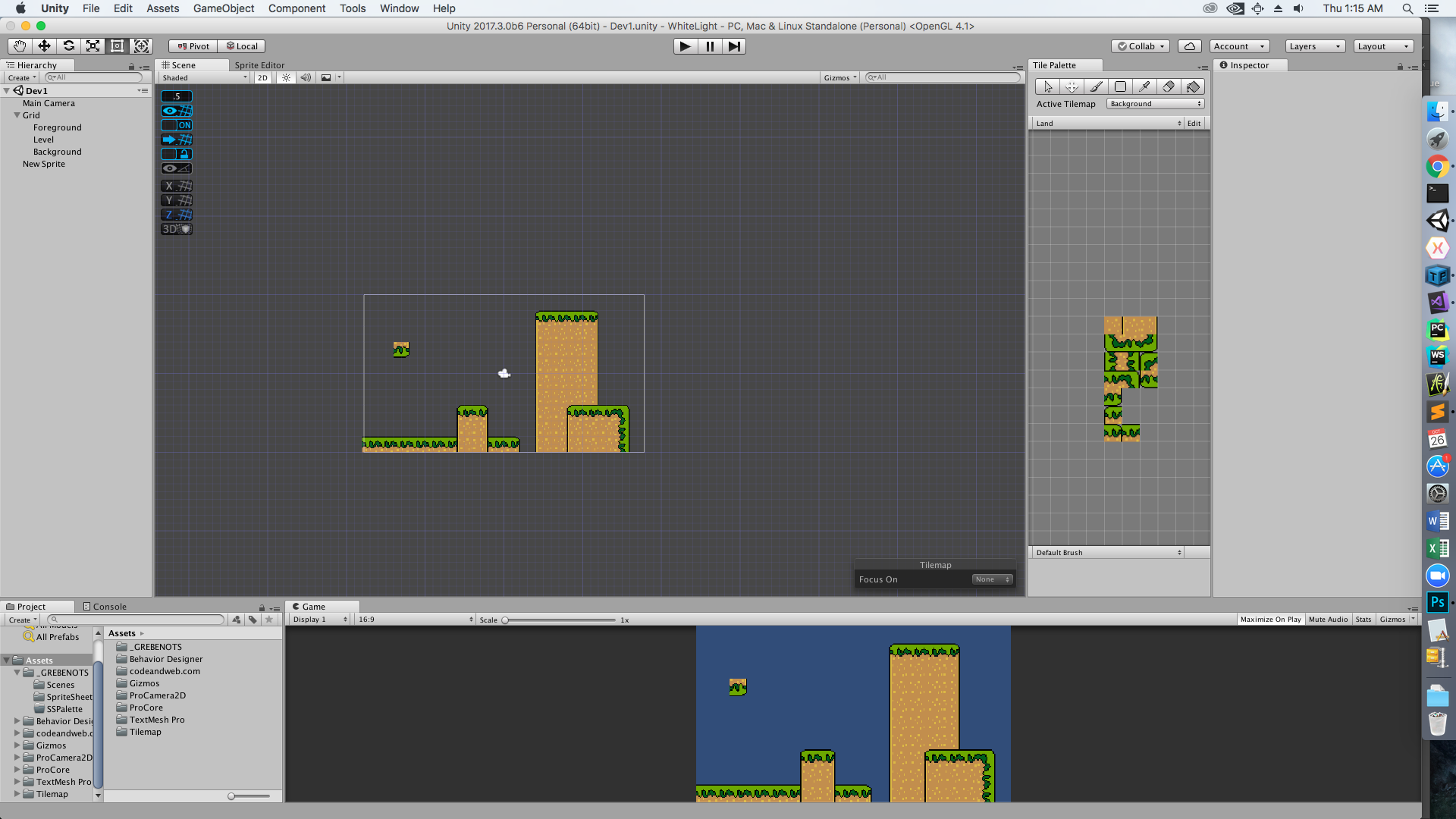 Proof of concept. Learning native 2D tile-mapping in Unity3D.
The premise is that our adventure exists in the infinitely small amount of time that divides life from death. Loosely, the gameplay structure is such that the hero platforms through a static Metroidvania inspired world, until his death. As soon as the player loses all HP, replacing the traditional "game over," or "you died" screen, is a quick button-mashing, thematic, mini-game of timing and skill immediately forces the player to abandon their feeling of failure. The outcome of this reversal directly impacts the next section of play. As the hero finds his life asymptoting towards death, his screen transitions to all black, then faraway white. He awakens in an unfamiliar place.
This place is randomly generated each play-through. Advancement and items found in either section of gameplay, will impact the world of the other.
Other notes:
Being built in Unity3D on a custom dual booting Hackintosh
Graphics are probably all placeholder prototypes
Pixel art
Inspired by the great 2D platformers of the 1990's
Augmented by inspiration from The Binding of Isaac
I am balancing this between full time classwork and full time parenting of 3 children.
There is no time frame for completion.
This blog is to keep a written log of my progress, challenges, and most of all, to let my brain release in a way that isn't directly related the games development.
Twitch development streaming is a possibility for the future.
The plot is loosely in reference to an interesting documentary on the chemical found within all of our brains, Dimethyltryptamine.