Also, yes, this is beta 3. There was a super secret 2nd beta I never uploaded, except to my web page that no one knows about. You're welcome.
This game is really coming along. I added some powerups because I felt that it would be fun to be able to approach the world in different ways depending on how much health you have. I love that "dammit!" feeling you get when you fall in a hole (or into outer space if you've hit one of the gravity reverse switches) and you realize all your powerups have gone away.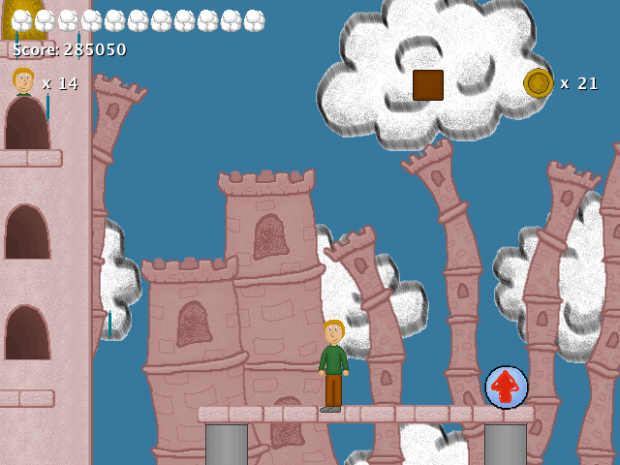 The powerups are....
• A snowball, the lamest of the powerups and the first one you get... once you have 5 hearts. It's currently pretty unusable and untested
• A bouncing ball you can shoot. It can even collect coins.
• A wind boomerang that scoops up all the enemies it runs into and smashes them into walls.
Yep.
I also really improved the HUD, but I think it could use some work still. It just doesn't look that great. I was toying with doing something vertically on the right side a la pac-man, but it wasn't working. I guess that's the kind of thing I should post screens of!
I (slightly) improved the walk animation. Animations are not my strong suit! I'm reading up on walk animations though, and this is only a placeholder.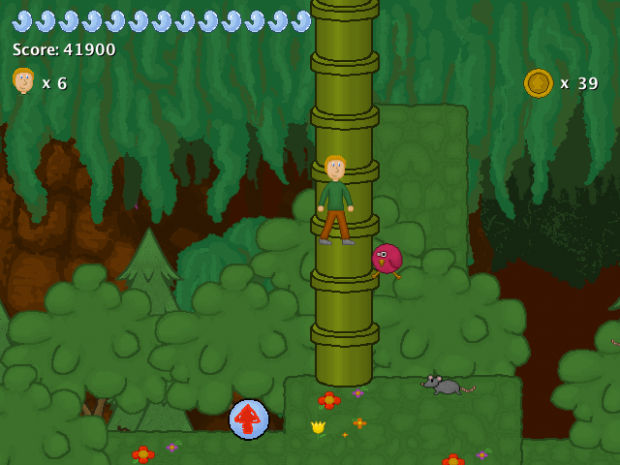 Still to do...
• Add some more levels, especially in the last world
• Improve the world select debug screen so you can go beyond the 6th world
• Fix all the boss battles. Right now, they're not really refined and they basically get killed in one shot by the powerups because of their lack of testing. Except for the last boss, which is impervious to them. Not really a good way for it to be.
• Witch house: make puzzles based on changing size.
• Improve the movement of views. Right now, it's not really that great
• Make parallax backgrounds less jerky. This bug is really getting on my nerves but I don't know what's causing it.
• so many more things I can't even think of right now.