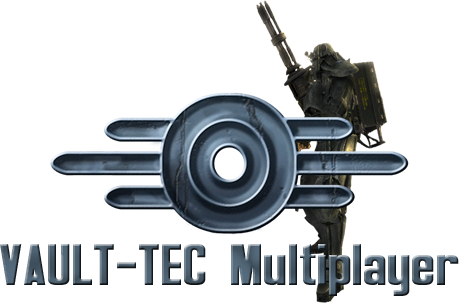 Hello fellow vault dwellers, Volumed again with a news update.
---------------------------------------------------
Help
We need people who want to join in our video it will be about the new features
The video is classified in:
1) weather and time feature showoff <- 6 or 7 people
2) sex change <- 6 or 7 people
3) traveling in a group with different gear <- 6 or 7 people
4) gunfights <- Yes we will make a video where we will kill each other. <- 6 people
5) Maybe a test for the player limit of VaultMP. <- 15 people don't kill each other with so many people it can crash only do it if we say so.
We need somebody:
-With Fallout 3
-A good internet speed somewhere in Europa
-Who knows how to install VaultMP and knows that it works! <- We can still help! There are some unofficial fixed not writed down.
-NO TROLLZZZ, we want to make a serious video.
If you want:
-You can film and upload and send the video's to me. (after that you can also upload it to other sources like youtube)
-It will be easy if you got teamspeak.
We already got 3/6 people who want to join:
Genocyber
The_Cop
And myself
MAX PEOPLE THAT WE WANT IS 6 MAYBE 7 WE DO NOT KNOW THE LIMITS OF VAULTMP MAYBE MORE FOR A SEPARATED PART OF THE VIDEO TO TEST IT IF WE DO THAT WE WILL CHOOSE SOME PEOPLE FOR IT DEPEND ON HOW MANY REQUEST WE GET.
Genocyber will host the server he is from the united kingdom.
The people who are going to film(we take requests):
Volumed and Genocyber
Make sure you got free time it will be at a Friday or Saterday
We will do it in the evening At 7, 8, 9 or 10 PM (UTC +1) <-- We will later choose a time when we got the people.
Contact:
1. Send me a mail: volumedvaultmp@gmail.com <- You can also ask for support!
2. Join the chat from VaultMP. Vaultmp.com
IRC: /server lindbohm.freenode.net /join #vaultmp <- Recommend if you want to become a active follower.
3. Create a VaultMP account and send me a message www.vaultmp.com
If I get a lot of request I will choose the best mail! The best mail will be one with a lot of information and reason(s) you want to help.
A lot of cleanups
Social Media:
Website: Vaultmp.com
Facebook: Facebook.com
Open-Source: Github.com
Visit: Brickster.net