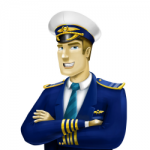 Hello there fans!
It's been a while, but here's a long list of updates and changes that have been added to AirwaySim.
Say hello also to our new mascot, The Captain.
---
New features and updates
The latest new features and changes at the AirwaySim's Online Airline Simulations are:
Aircraft information & fleet listing page: combined aircraft information and data overview page. The Aircraft Information page collects together all the basic information of an aircraft model. These include the basic technical details and basic production details (in a similar format already seen elsewhere, but not always available if the aircraft was not in production anymore). Completely new features at this page are the "Largest operators" listing and the "Fleet listing" table.
Boeing B777-8X and B777-9X aircraft data added.
McDonnell Douglas DC-9 series aircraft data updated with more accurate information. Main changes are the new weight variants (with added range) and splitting the -30 series into separate models. Runway requirements have been updated, together with other small changes.
Sukhoi Superjet series aircraft data updated with more accurate information.
CASA C-212 series aircraft data updated with more accurate information. Addition of three new models taking this small 20-30 seater plane all the way from 1970s to present day.
More "hushkit" engine upgrade options added for several aircraft models.
Dashboard news feed shows now all base airports of airlines that have been closed.
Dynamism of aircraft production lines for smaller aircraft updated. It now requires less orders to keep the production lines open.
Aircraft "Production Slots" page shows also when the production line is about to be closed. The slots will become gray-colored ("unavailable slot") after that date. Aircraft pages ("New Aircraft" and "Compare Aircraft") also show the status of the new aircraft production line in a color-coded format, together with the information of time to go until the production line closes (if it's pending closure).
"Free preview" period of game worlds extended from 15 minutes to 30 minutes. When you join a full / paid game world you have now 30 minutes time to decide if you wish to play in that game, during which time you can leave that game world and get the joining fee (5 Cr) back.
Setting: "Vacation mode". Found under Settings -> Airline settings. Allows you to leave your airline unattended without the fear of being closed by inactivity.
Adjustments to in-game inactivity rules. The automated closure of the player's airline happens now a bit later, and the related warnings have been also updated.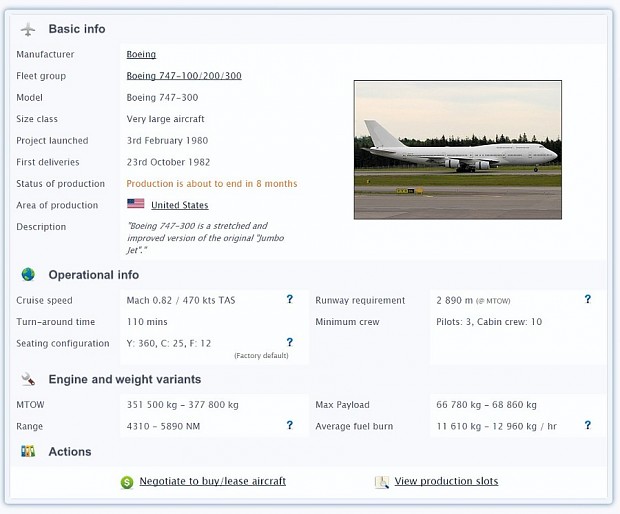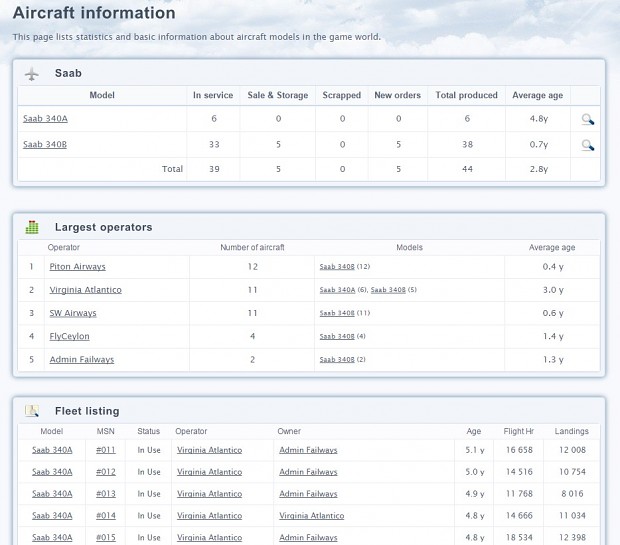 ---
Previews of upcoming features
There are plenty of new features in the works for our simulations. Here we'll preview some of them for you!
Aircraft noise regulation
A minor new feature will be added very soon, affecting the operations of very old aircraft. This means that airlines are not able to fly very old equipment (not having at least "Chapter 3" noise certification) for example in Europe or US during the modern era.
Most of the older aircraft models that can be operated in the modern times already have the "hushkit" upgrade available (installed using the "Upgrade Aircraft" function), and this allows players to extend the useful life of these old models (such as the DC-9) into the noise restricted era.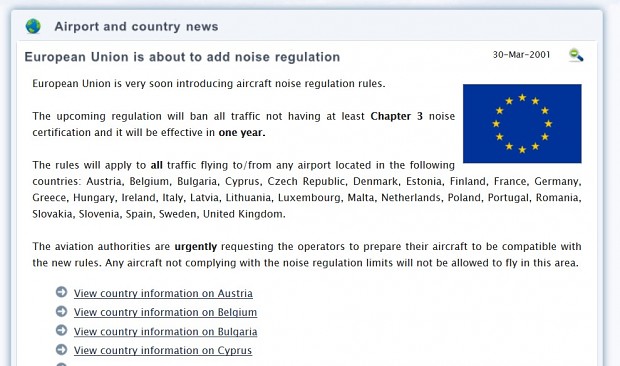 ---
Airline simulation
AirwaySim's Airline Simulation is a realistic multiplayer online simulation for the serious aviation and business enthusiast:
In AirwaySim you can create your own airline and build your very own airline empire, you are the airline CEO.
You will start off small with older used aircraft and work your way through to the big leagues of large international air carriers. Or you may choose to run a small regional carrier if you like - you are fully in charge.
Expand your airline with new routes and aircraft and open new base airports. Manage the ticket prices, staffing levels and route schedules of your airline to optimize your profits. You have dozens and dozens of possibilities and functions available to manage your airline.
You can choose to play in the historical scenarios with old propliners or in the modern ages with new jets.
Compete against other managers worldwide - all management moves directly affect the other players. You can also team up in airline alliances.
AirwaySim includes realistic and complex financial model with powerful reporting tools - a true business simulation.