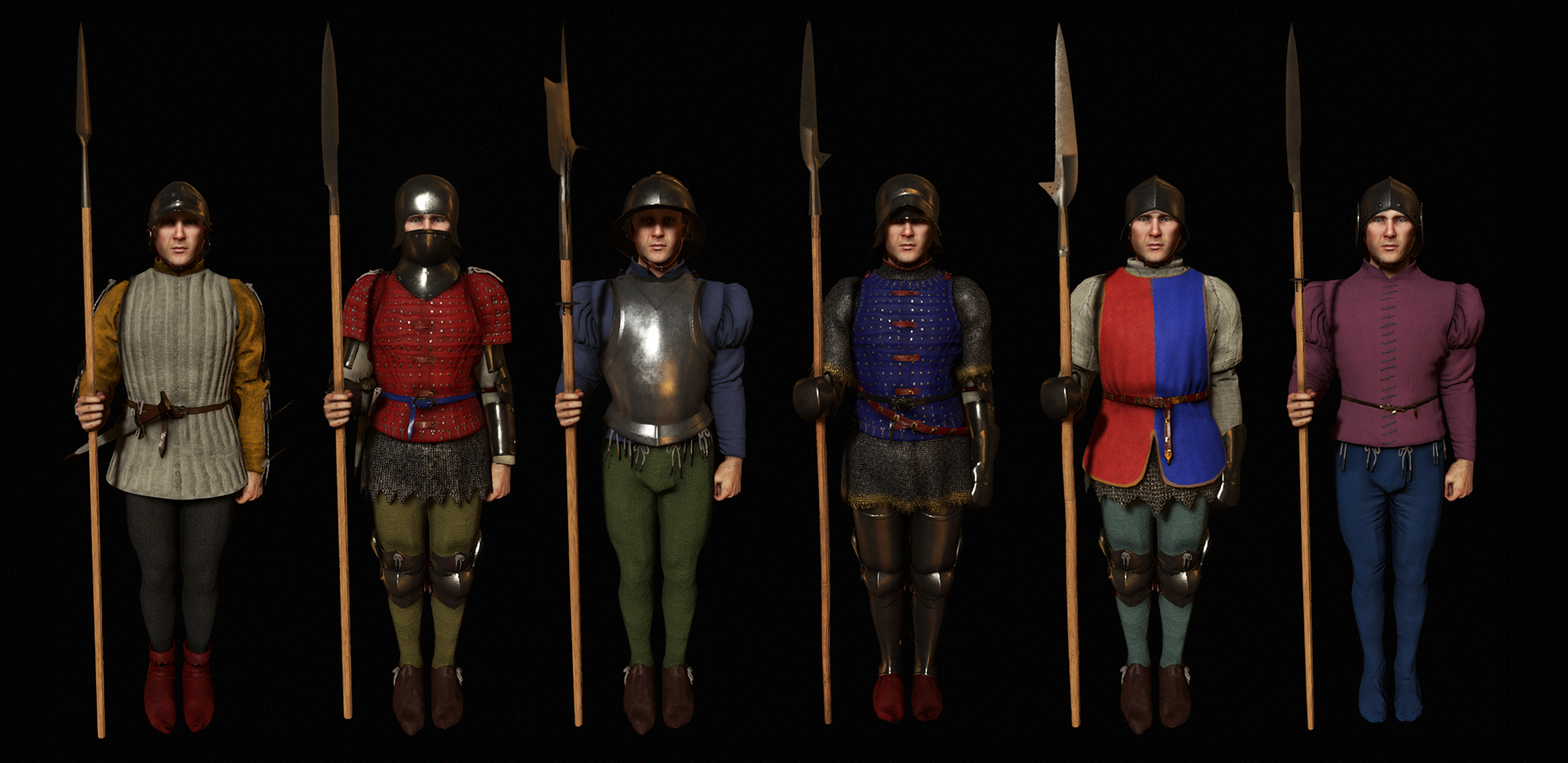 Hello there, and welcome to the first blog for Dell'arte Della Guerra.
The wait for a mod to release is always long and pretty boring, so we thought that we could spice things up a bit by making a blog series which talks about some historical stuff that will be present in the mod. Our inspiration for various things, to which extent you might expect to see them in the game, and other similar queries.In this first blog, I will talk a little bit about our English footmen, their equipment, and how we've chosen to represent them in the mod.
When people tend to think about English infantry in the medieval period, the first thing that comes to many people's minds are billmen, and bills. The bill is known as a quintessential English weapon. However, contrary to popular belief, dedicated units of billmen were not yet around in the 15th century. Common references to soldiers in this period simply name them as 'footmen', or in some cases such as John Lydgate's poem about the Trojan War from the early 15th century as 'guisarmes'. Uniformity in weapons was not expected and is a concept which became commonplace first in the 16th century. And while bills were a popular weapon pick, looking at our available sources we can see that english infantry of this period use a variety of polearms. Glaives seem to be about equally popular as bills, and spears outnumber them both in many cases.
We of course wish to stay true to history wherever possible in our mod. The english infantry in our mod therefore wield an assortment of these polearms at mostly random. Higher tier infantry units also have a greater chance to spawn with pollaxes, however those are rarer and infantry across all tiers make use of spears, glaives and bills.
When it comes to armour, infantry in most of Europe had minimum requirements of the equipment they had to bring and England is no exception to this. It was expected that an infantryman would bring with him at least a textile jack and a helmet. However not everyone followed these regulations and we know that people did get fined over not keeping the needed equipment. Apart from the textile jack, brigandines also show up commonly in accounts as popular defences. A brigandine would be a body armour made of many small plates riveted to an outer covering of textile and/or leather. High end brigandines covered in expensive velvets were also owned and used by higher standing knights and lords on occasion. At times we see footmen bring plate cuirasses or breastplates as well. There's plenty of variance, and this is something we represent in the mod by creating several unique loadouts for our infantrymen. Unlike in Native bannerlord one cannot go into this mod expecting their soldiers to be uniformly armed and armoured as this is not what one would see on a late medieval battlefield.
We of course cannot talk about English soldiers in the Wars of the Roses without mentioning livery. Livery in the wars of the roses would be displayed by soldiers in the service of a lord by wearing his colours - which should not be mistaken for his arms as this is a deeply personal thing. Sources however are not very clear on the extent that these liveries were worn and in the mod we've elected to mainly give livery to household soldiers. Levied low-tier troops will generally not display any livery.
Below you will see a few possible versions of the english soldiers you may recruit in-game, and a brief description of their equipment. Some of the polearms have been cut in length to fit in frame and can be longer within the actual mod.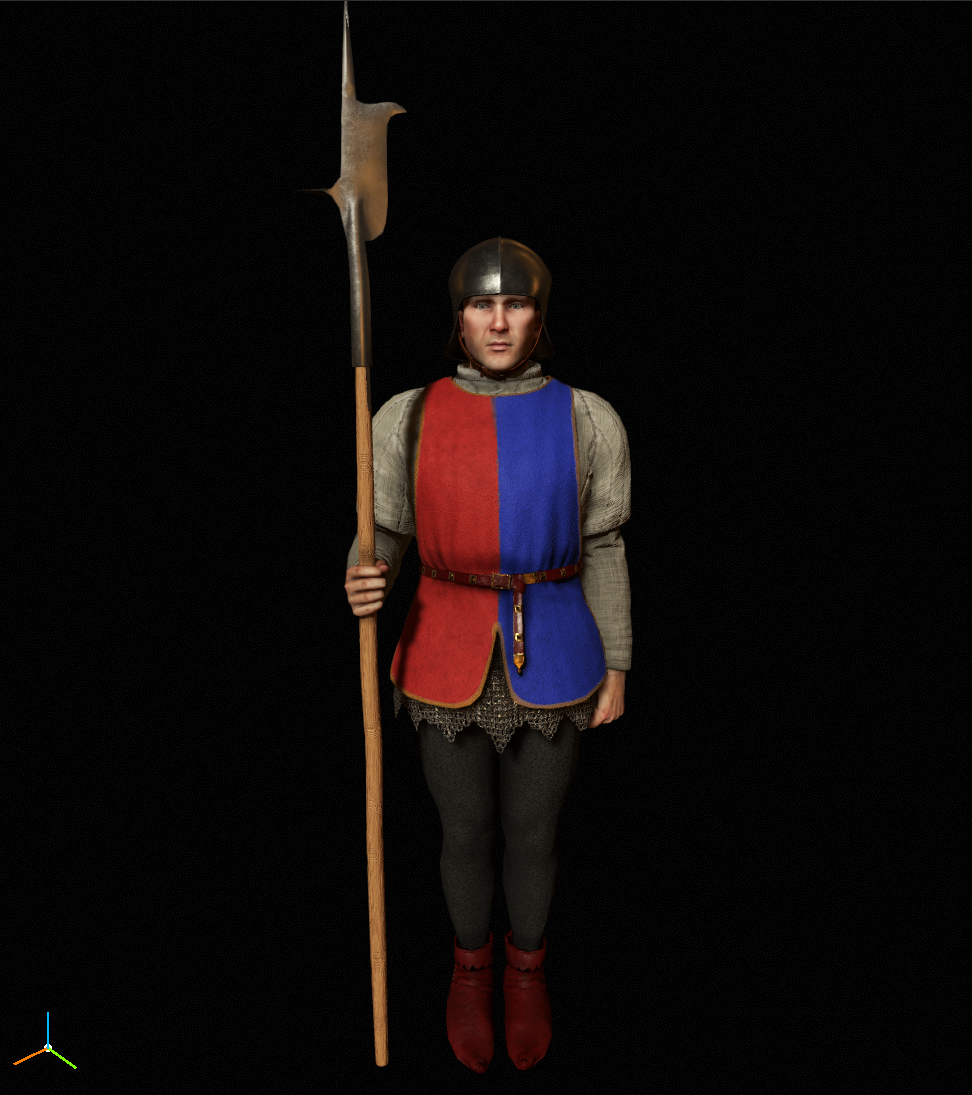 Here above we have a footsoldier armed with a bill, wearing a jack, a short-sleeved shirt of mail underneath and an open sallet. He is also wearing a livery jacket which displays his allegiance to a specific lord, and these will change dynamically with the banner colour in the game.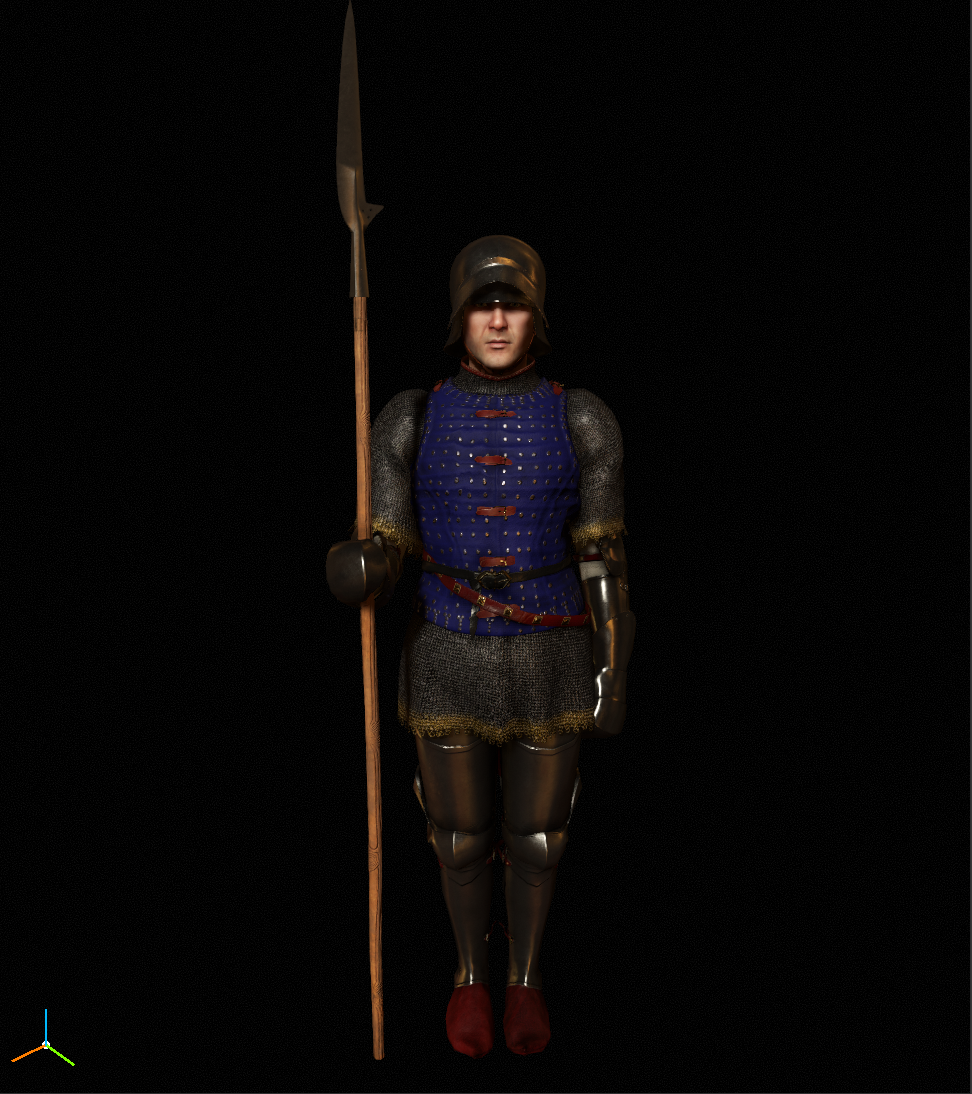 This infantryman is very well off, owning a full set of plate leg defences as well as a brigandine. He showed up to battle with a glaive, a weapon rather popular in 15th century english sources but often overshadowed by the bill in the modern eye. This might be something you'd expect to see a lord's personal retainers wear, though of course it isn't impossible that a well-off burgher would show up in a similar getup.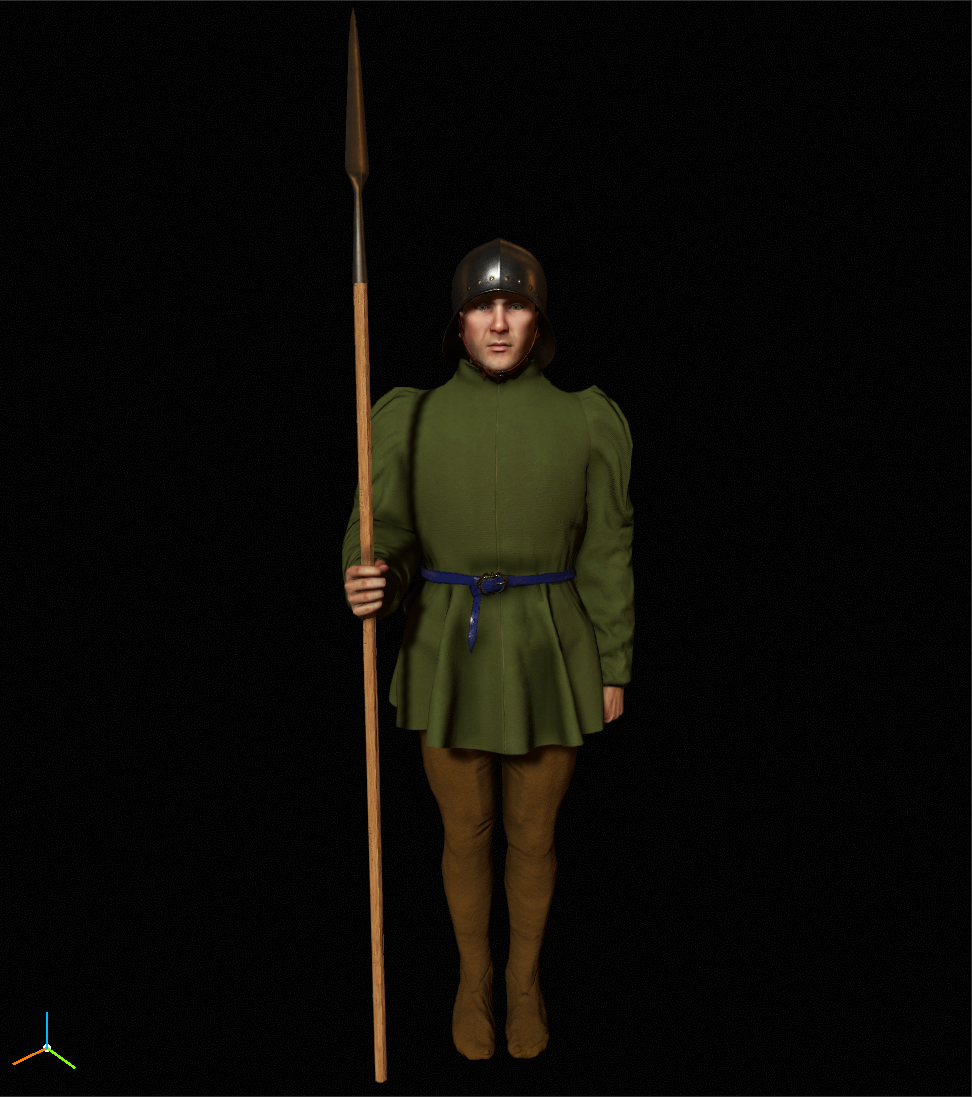 This soldier is not as well equipped as the previous lads. He is wearing a coat of popular 15th century cut, as soldiers often do in available depictions obscuring whatever armour he might have underneath it. Does he have a jack? A brigandine or a coat of mail? We don't know, and neither will you until you try to stab him.
The intention of wearing coats like this is not to hide the armour, it's simply because it's fashionable and moreover protects you from the elements. It does however make the job harder for us as modern observers to judge what armour someone is wearing in the depictions.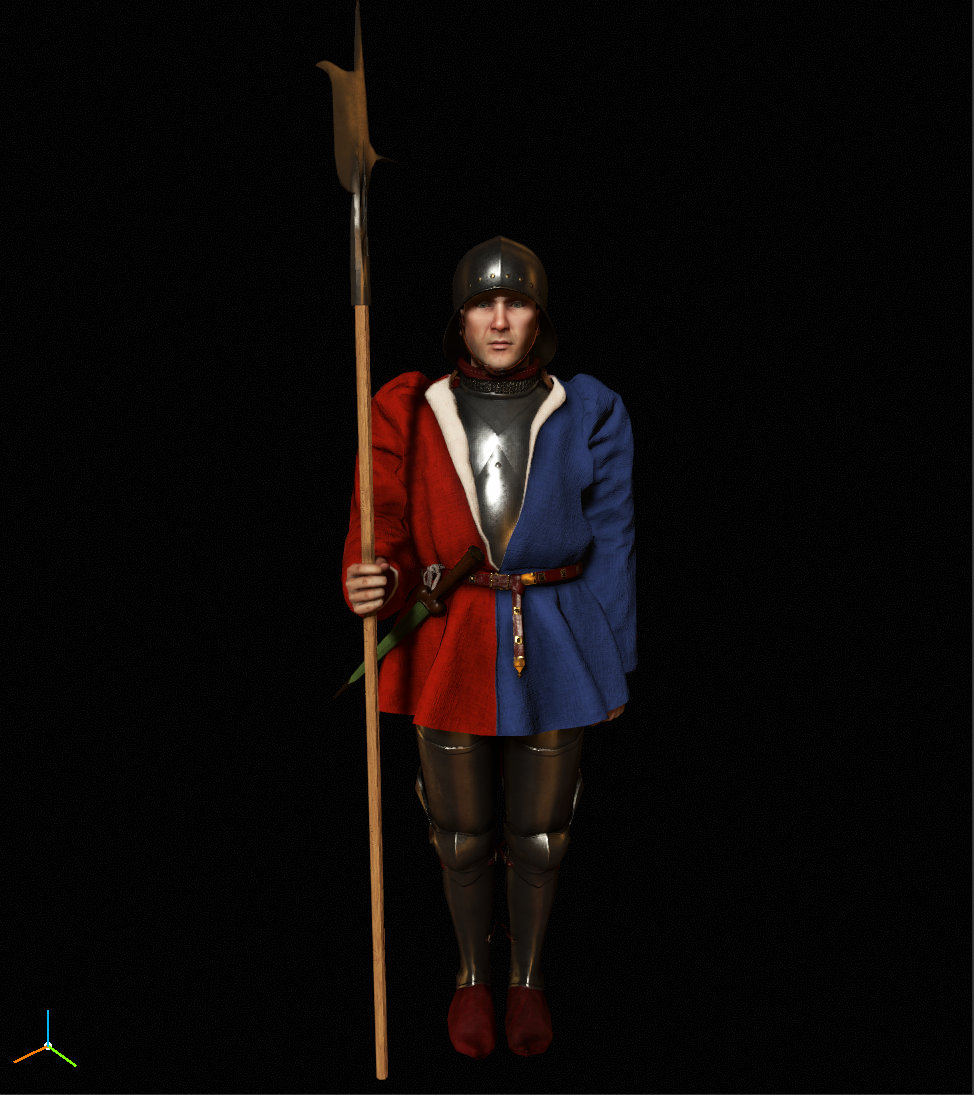 This retainer is wearing a livery coat. Coats like this usually followed the cut of the civilian fashion of the time and this coat is not very different from the one a normal man would wear, with the exception of the colouring.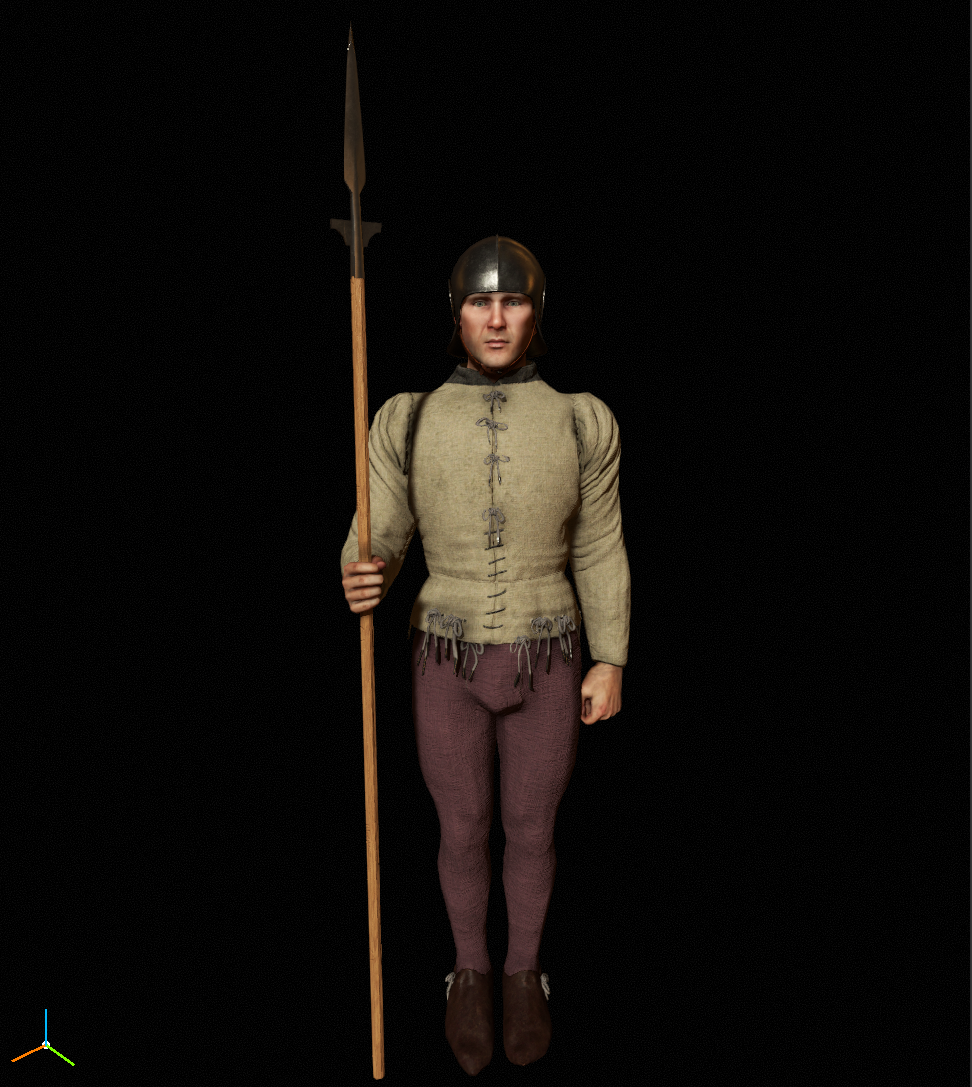 This poor guy showed up with no armour but a helmet, and would usually be fined for doing this as well as be requested to put on something else. But necessity has no law and if the situation is dire sometimes you have to accept what you can get.


That's the end of this blog. There will be more images posted of various other configurations of armour, so stay on the lookout for those. We hope you enjoyed, and stay tuned for more similar ones in the future.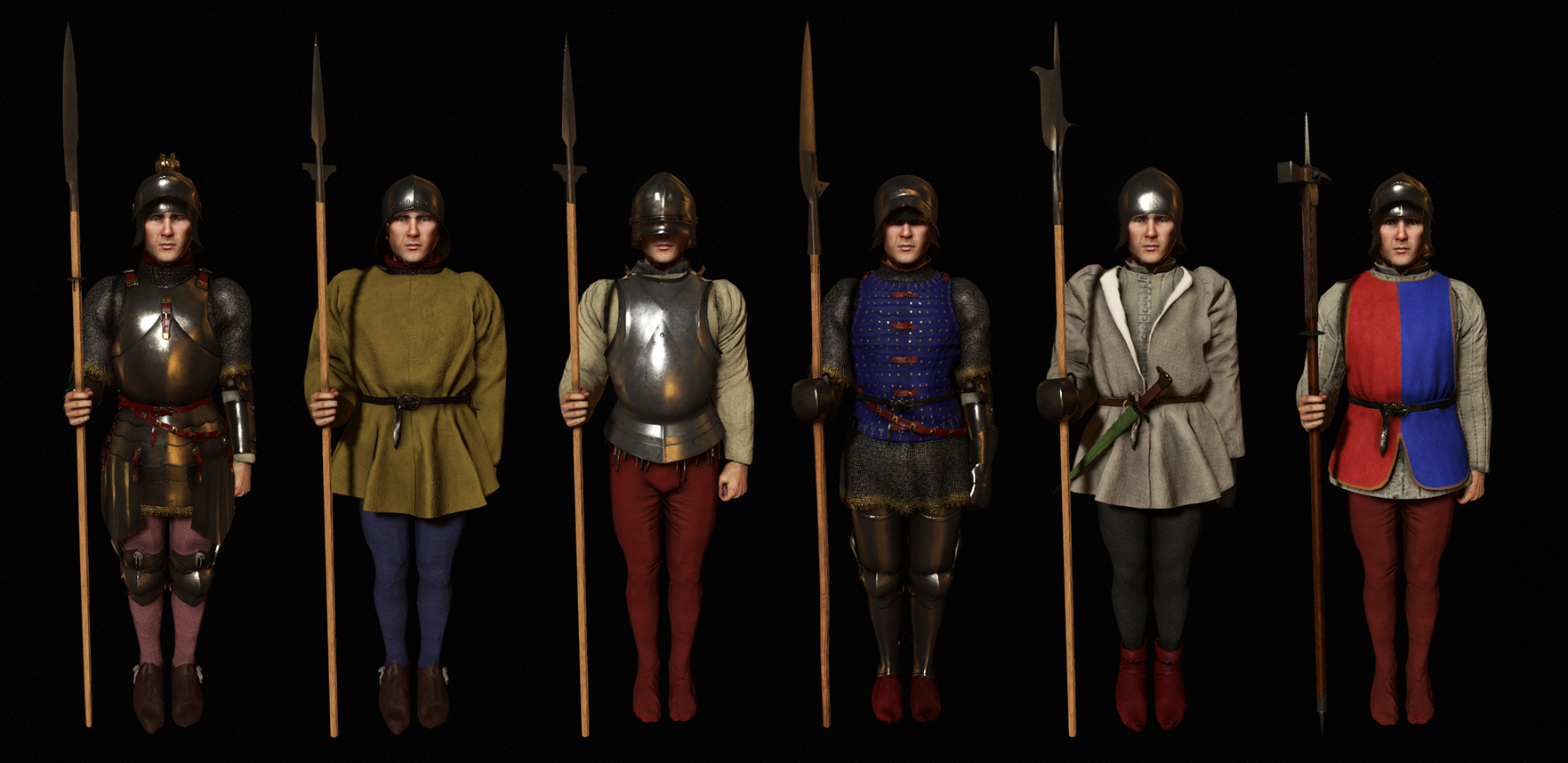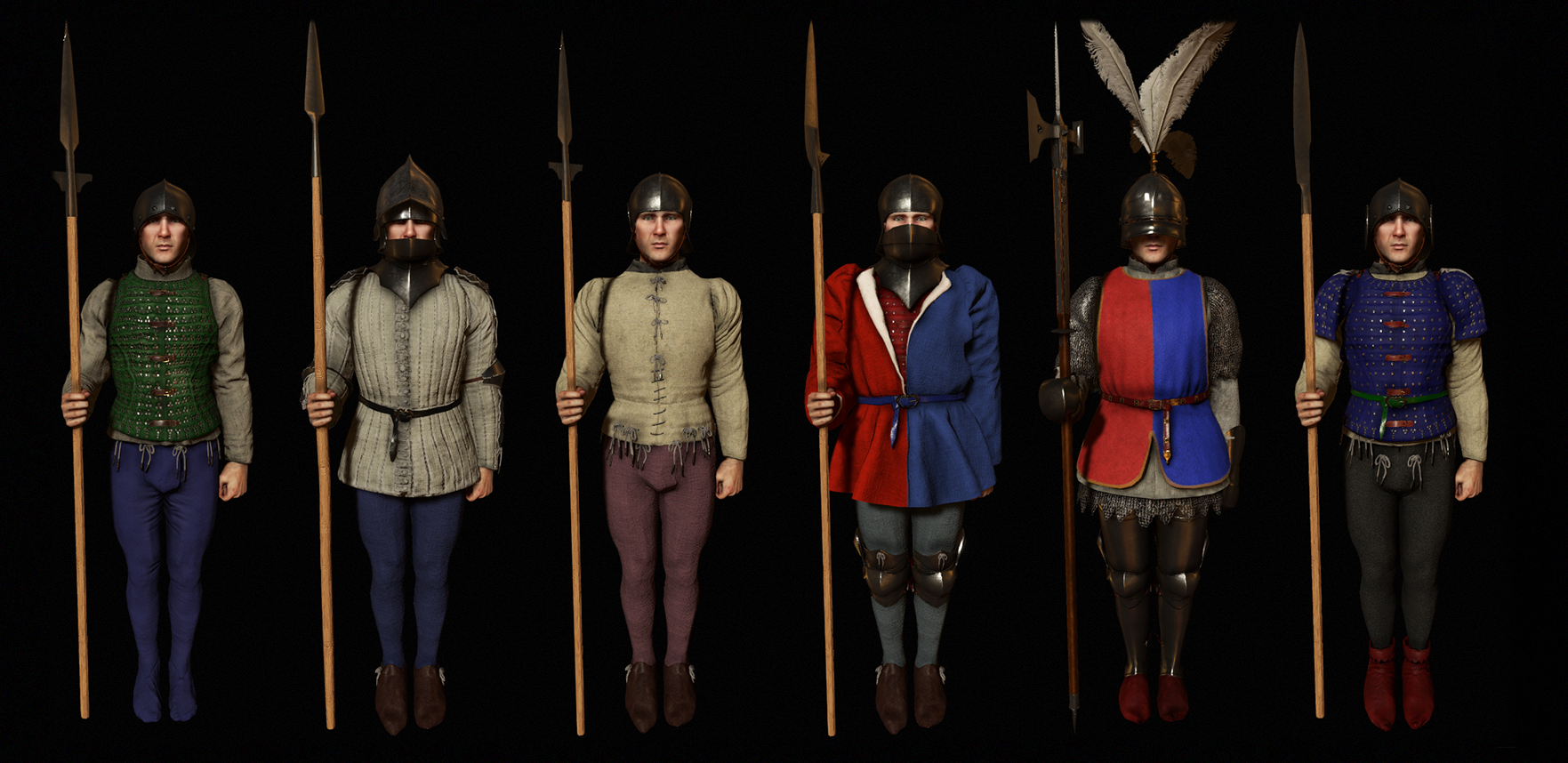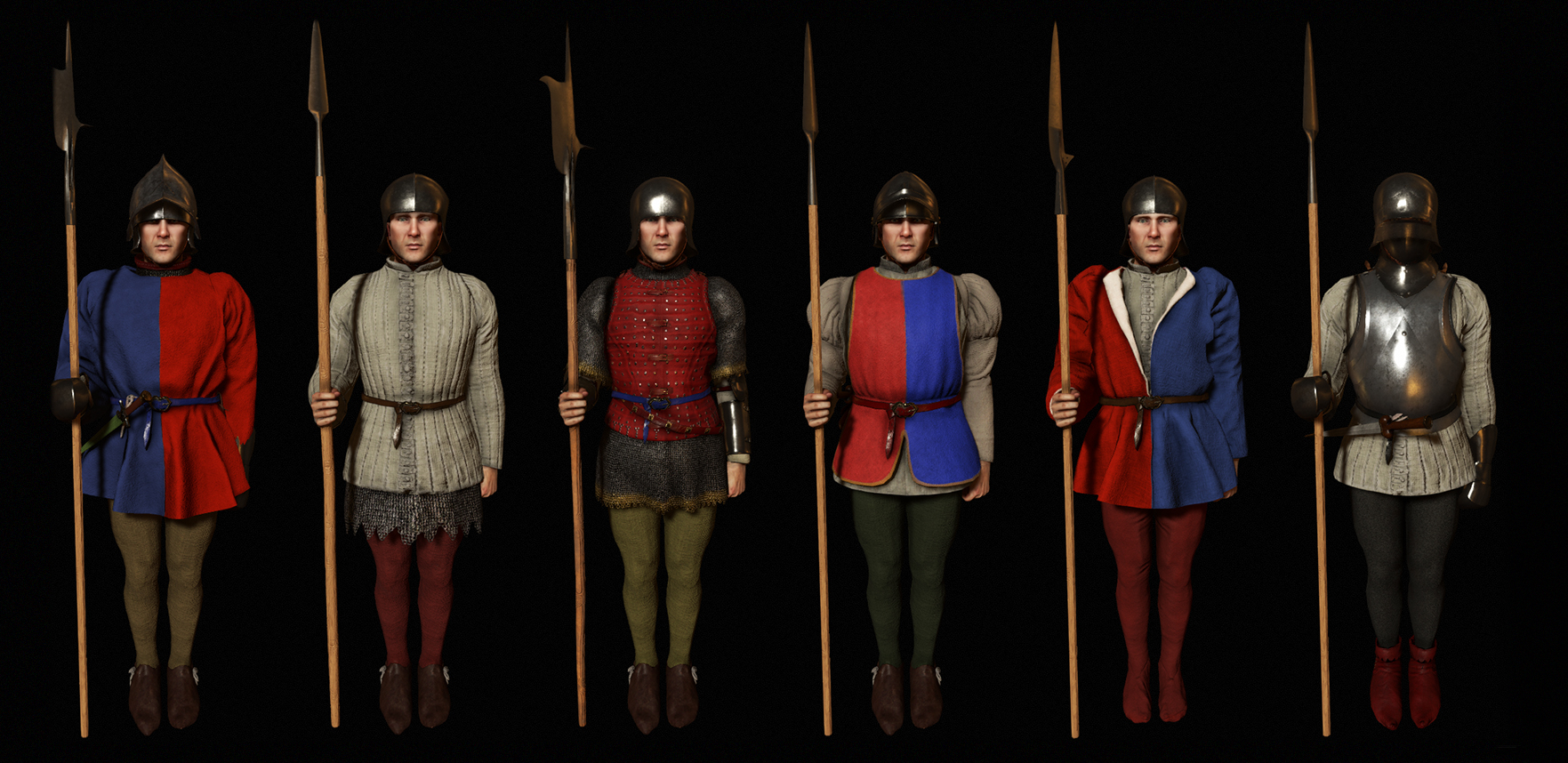 We are always looking for sceners, coders and 3d artist so dont hesitate to write if you are interested in helping! Also we are missing war of the roses enthusiast who could navigate among all the lords, relationship among them, heraldry, etc.