If you can't wait for Starcraft II to come out in 4 days then wait no further.
Alot of changes were made to fix the previous alpha version of the map. During gameplay testing online i did for a few weeks ago, i found the map to be very buggy and riddled with pathing and balance issues. I have done what i can to fix any these issue and here is of what I've done.
Map Development
I decided to redesign the map layout a little bit, to resemble the latest style design of the Lost Temple map from Starcraft II. The new design allowed for 2 additional resource locations and better secondary resource placement for the four main bases in the map.
Terran
Being the most complete race there wasn't much more work needed to be done to the Terran's but i did make one change;
- Siege Tanks now do splash damage in Siege mode.
Protoss
The protoss army got a boost this time around with the replacing of the Dragoon unit with the new Stalker unit. Unfortunately i didn't give the Stalker the blink ability as i wasn't sure what ability i could use from Warcraft III to allow for teleportation for the Stalker. Other improvements were made to the High Templar unit and the Vindiccator was nerfed to balance it out during combat.
- Stalker unit added to replace the Dragoon unit.
- High Templar's can now morph into Archon's.
- Reduced Vindiccator's life down to 100 / 100 shields and reduced damage amount to 20.
- Added a new console skin set, based on the latest style design console which appeared in the later stages of the Starcraft II: Beta
- Fixed broken Plasma Shield trigger system from previous map versions.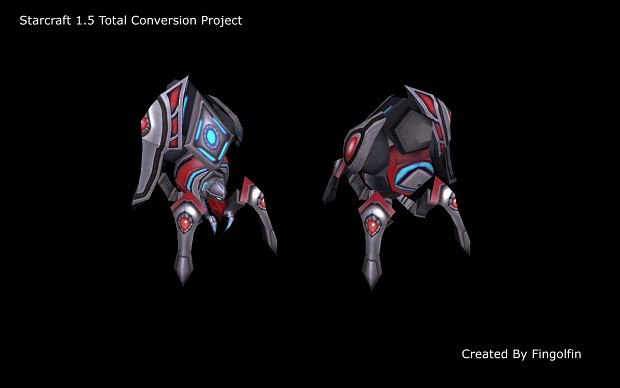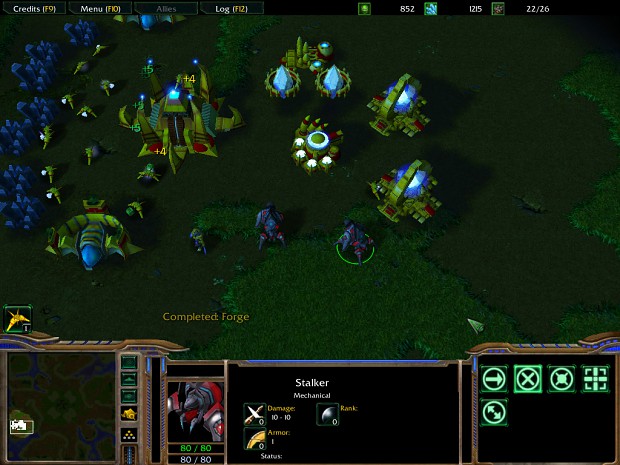 Zerg
The only real changes i was able to make for the Zerg was the changing of the production of the Lurker, which can now be built from a Larvae. I did this because the Zerg Roach doesn't require the use of another unit to produce itself so i wanted this same setup for the Lurker. I think it will add a new element for zerg and will be interesting to see how Zerg players use this new setup.
Skin Development
A few new icons become available during the second phase of the Starcraft II Beta, so i was able to take them from the game and make new icons for the maps. I also had to make new skins for all the weapon and armor types which look alot better then the previous skins.
Pathing Developments
To fix issue i decided to change the setup of pathing in the map.I took a different approach to unit pathing by setting unit pathing values to a unified value for certain types of units. So for example all worker units have a pathing of 16. Tanks and Stalkers have twice the size set at 32. I hope this will balance the system and allow for better gameplay between combat and resource gathering. The only problem with this is the unit formation and movement pathing will not cluster up as i would like it too but i have looked at this and found Warcraft III doesn't allow for unit clustering like Starcraft II does.
Known Bugs and Glitches
Again the map still has a few bugs I am unable to fix;
- Map still has no AI scripts and I have yet to start work on them.
- There is still no solution to building next to an resources doodads.
Terran
- Liftoff still has no animation.
Protoss
- Pylon Field system still doesn't work properly meaning Protoss can build anywhere without pylons.
- Carriers/Interceptor attack is still very poor and buggy, due to the current interceptor spawn ability setup.
- Stalkers don't have Blink.
- Pisonic Storm still doesn't work at all.
Zerg
- Has no rally point with unit production. This is due to how i set up the system which is based on upgrading not training.
- Overseer Upgrade is still buggy and upgrades all overlords at once instead of one at a time.
There are different more bugs present in the map but i can't list them all. I hope the new version is less buggier then the previous version and i hope very one enjoys the new improvements I've made.
night_wolveX