Hello every body, there are some things going on since the last update!
We decided to make every week a new blog and we both wanted a own part in it. This blog is about the previous month. We decided this because we want to tell and show you guys what's going on.
The upcoming blogs are going to look like this:

Henrico
We are using unity as our game engine to make this game working. We are started this game with Unity 4 and Unity 5 came out so we want to use the newer version of Unity. So we maked a back-up of the project and tried to use Unity 5 but it was not as expected it was even worse, so we decided to use Unity 4 as our game engine
This is why:
The invisible terrain was not working so we are not able to use grass any more.
The day/night cycle stoped working.
the colors were changed
and some scripts did't work any more
The cave
We are working to make the cave accessible. The main thing is to explore the cave and find some intresting items and other stuff.
Pictures are comming soon.
HUD
I have also worked on the HUD and make some survival bars of course. Those are currently in it: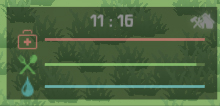 The Health and Food are currenlty working the water not yet.
Food
I also worked on the food system to pick up food get it in Larry's inventory and let larry it eat. The hungry it self is slowly decreasing and the health also if you are too hungry.
Day/Night cycle
I have worked on the day night cycle and maked it more realistic. Here is a preview:
What's next
Next week i want to improve the inventory system and fix some bugs and some other stuff. You can see it in the upcoming blog ;).
Remko
Food
I have created some food items to increase larry's food. I have created 3 kinds of food and a 3 cooked ones.
Cave
I alse worked on the cave and everyting in it so larry is possible to do some things.
I have created:
Crystals
Obstacles
The cave it self
and some more!
What's next
Next week I want to finish the rabbit were i am currently working on and make some animations. I alse want to create a chicken and make some animation for it. And i will create some plants and other details for the islands!
Thanks for reading! You can track our game so you get a message when we add some stuff!