Hello fellow shark huggers!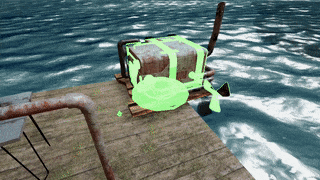 We have one hell of an update that you won't want to miss out on! Today, we are proud to unveil Update 0.35.9 The Boat Builder Update!
First, you can check out the video here to get some visuals on how it works.
How to build your boat?
Craft the "Pontoon" item and place it in the water. Once placed you will need to place down an engine for propulsion, a nearby generator for power, and fill up the fuel tank next to the helm. Once this is done players can then take control of the helm and control their boat.
You will need to test out different spots to place your items. The boat is physics based, so to get that perfect boat will require a lot of physics testing which is good news for the players, because they can now have crazy fun experiments now with the boat builder!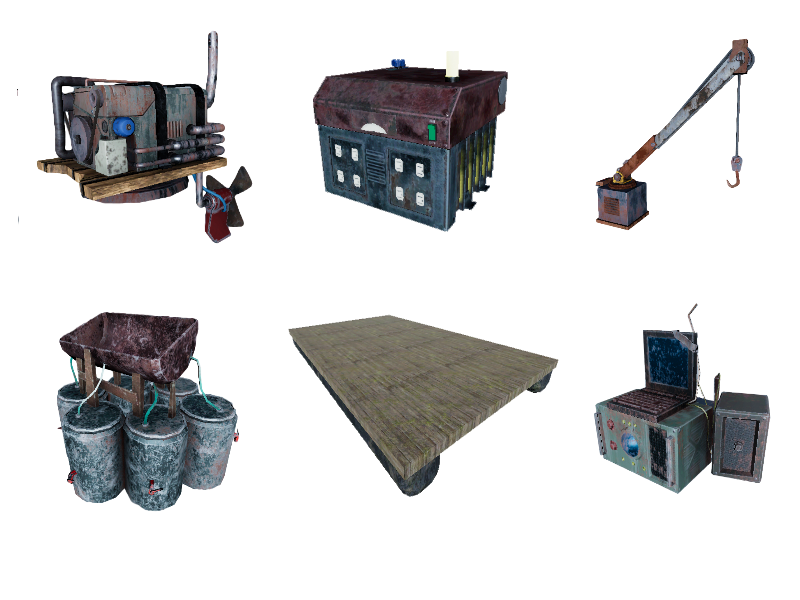 Enemy Camps Replaced:
We wanted to make the enemy camps more manageable as well as use the new building parts. We wanted to start out slow and start with smaller camps first that only hold roughly 5 enemies on it. The camps are now a lot easier to raid and allows us to build up from here. For instance, when we have the dynamic difficulty in play, players will start discovering bigger and tougher bases. But for now, we want to get all the basics covered.


New Awnings Pack:
New awnings for your base. Choose from Shark Skin, Shark Straps, or the timeless classic, the blue plastic tarp. Also added is the new pillars to help give your home the support it needs!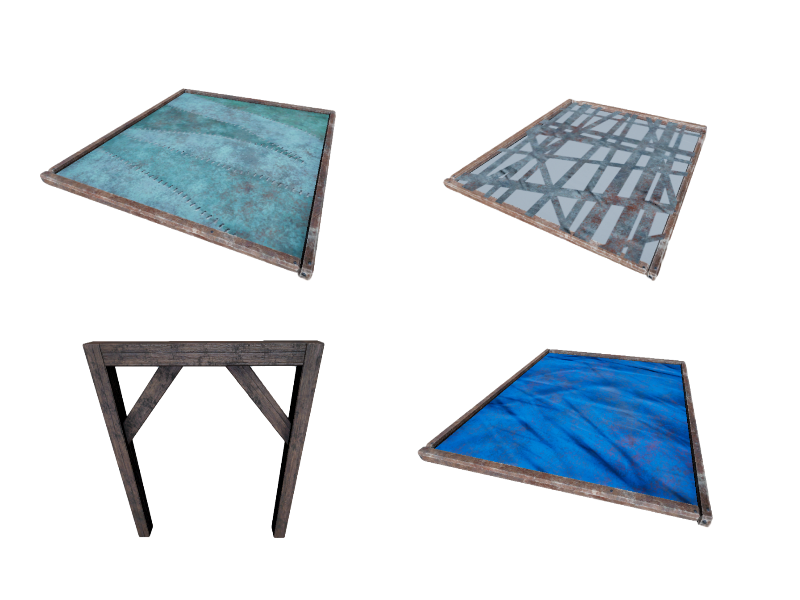 Optimizations:
-Optimized cargo ship for players experiencing crashes near it
-Physics optimization, may feel a little rough at first, but we are going to start smoothing it out in future patches, particularly around the islands. Players should start noticing some better frames now around enemies.
Patch Notes:
- Placing a bed on a container ship will prevent enemies from respawning there
- Hydro Turret range has been extended by an extra 100%
- Water Sound FX on the game menu has been changed to it's max settings for it's default state. Some players were complaining they could not hear the ocean. If you already saved your own settings, just turn the water sounds all the way up to hear the sounds of the sea
- Random NPC homes have been updated to longer include the older models anymore and have been substituted with smaller more optimized buildings
- A lot of new icons have been added. We are slowly transitioning out from all the placeholder icons we had that never really matched the items anyways
- All woil costs for cooking has been reduced by 20%
- Changed stacking rules for a lot of items, more items should be able to stack now
- New underwater sound effect added
- Gunboat and Drugboat aggro ranges have been increased by an extra 100%
- Feathers added to floating loot containers. This is a temporary solution until we get the seagull coops in
Dev Notes:
Alright, we're now zeroing in on steam workshop, almost there! Going to be doing some more fixes and polishes in the next update, then it's Steam Workshop time in the following update! Game is on sale now for the Halloween Steam Promotions. So spread the word and take advantage of this limited time offer!
Follow Us:
Thank you,
Codebullet