No news is good news, so this news is, potentially, going to be bad news. After some internal arguments one of the mappers, goanna, has quit the development team. He's no longer supporting the 4 maps he made for the main-story line of in total 15 maps. This leaves a gap in the mod, which is in need of filling up. I will probably have to do this myself, but since I don't have too much time on my hands, I've put up a position in ModDB's new Jobs section with the specifications for the job. So, if you're a Half-Life 1 mapper looking for a new challenge, let me know. That would speed up the development of the MOD for a great deal.
We were pretty close to release, so this is a major setback for the mod. I was planning to release a new video this month, but that obviously has to wait a little longer now. As an alternative, I'll show you the new NPCs that have been made last month. On the left you can see the new commandable NPCs and on the right new female NPCs which you'll encounter in the urban areas.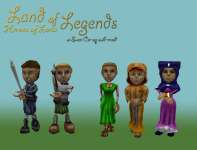 The commandable NPC's were suggested by Beretta in the comments, so thanks for that. If you have any innovative gameplay idea's that might fit the mod, do not hesitate to leave a comment. And again, if you're a skilled Half-Life 1 mapper and interested in this project, drop me a line through the Private Message system.