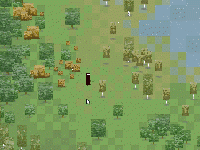 Lake Serene Windows full version released.


Lake Serene is an experimental journey of discovery in which an agitated and angry Hero finds itself in the middle of an idyllic forest landscape. The Hero has a choice to either contaminate this beautiful environment with toxic emotions or to move calmly... slowly... and to draw positivity from the forest.
Through patient exploration the Hero can find hidden objects, companions and even completely new worlds.
Lake Serene is designed to be relaxing and stress relieving.
It's more about the journey and what you learned from it than any actual gameplay objectives. A lot in the essence of the game is up to personal interpretation and may provide very unique experiences to each individual.
It comes down to being a sort of an experiment. It tries to question what a game can be. Is a game just the score you amount until your character dies? Is a game a contest of who has the quickest reflexes? Or can a game also be about finding your inner peace? Let's find out together.

Lake Serene was first envisioned and prototyped in 48 hours on IGDA Estonia Game Jam themed "Less is More". The game won 3rd place on the mentioned competition.
Mikk - Game design
Madis - Programming
Paco - Art
Riho - Sound design