Hello fans,
I believe it has been quite a while since the last actual update... There are several reasons for this:
1. The Engine is having a few issues, its not entirely functional at the moment.
2. FPS Gamer left us a while ago, he wont be making any more models for us, at least not alot of models.
3. School...
4. The RC Mod (my mod for Lord of the Rings: The Battle for Middle-Earth 2)
I have a bit more time nowadays, for a few weeks at least.
I have been working on a few small aspects of the game, but nothing that i can actually show the public. I have on the other hand made a nice bunch of shields... Which will get random textures and such, which i will make soon and put up, thus giving players a wide variety of shields to choose from!
It is possible that i may also use some shields for my mod, the RC Mod.
...The shields...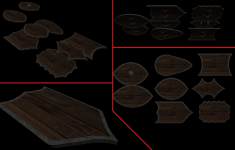 When i get the engine problems fixed you can expect the first ingame screenshots and movies!