Upcoming Build
We are working hard to try to release the next update some time next week. It will have a long awaited balance pass, a new Perk system, the start of a Skin store for cosmetic items, other new minor features, and a new Boss and related content.
Development
The engineering team created a Steam DLC bundle; updated character Selection puck in game; finished Skin store; started implementing Explore mode; created a Replay downloader for internal QA; added damage analytics.
The art team modeled a new skin for Renna; worked on Celestial Giant card art and defense portal; did a first pass at Celestial Beast concept; skinned Celestial Giant; started concept for Spirit Beast; modeled new skin for Renna; modeled Spirit Beast; created Celestial Giant animations; added FX and materials to Celestial Giant.
The audio team added sounds for Celestial Giant.
The design team wrote VO dialog; setup Blade Master skin in game; and most importantly continued to balance cards.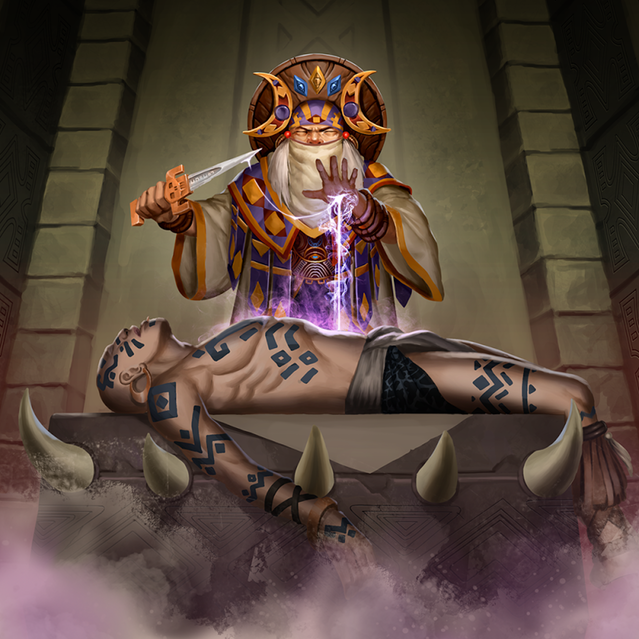 Future Hero/Boss Price Change
Thank you to everyone who purchased one of the new heroes or bosses. We appreciate your supporting Labyrinth development while it is in Early Access. In order to run Labyrinth as a free to play game that can sustain its operating costs and better cover the cost of development for a given hero or boss and their associated level-up cards, we will be increasing both the cash and Gold prices of the non-basic heroes and bosses in the patch after this one. We want to give players advanced warning so that they can buy any hero or boss at the lower price right now if they should so desire. Heroes and Bosses will still be purchasable with Gold.
Basically, last warning. Get yours now.
Stardust Miscalculation
There was a bug in the calculation for Stardust that was refunded after the account reset in the last update. A temporary fix had been included in a patch. After analyzing all of the data, we discovered that players were either awarded the correct amount, or in some cases, just slightly more than they should have with that temporary fix. So we will not be adjusting anyone's Stardust at this point.
Backer Rewards
We also discovered that codes for some of the Backer rewards require an update to the server, so we will distribute those shortly after the upcoming update. The rewards will include backer badges, offense and defense loot bonuses, and 5 card packs/week of the non-giftable variety for the players that qualify for each of these rewards. Other rewards will be distributed as they are implemented in the game.
Top Players
Now just for a little fun, here is some data of the Top 100 players ranked by all sorts of arguably meaningless stats. Let the trash talk begin! Trash talk only improves in value in proportion to how meaningless the underlying stats are. So hopefully this data raises lots of questions. The only thing I'll say is that all data is gathered since the last update on April 13, otherwise you are on your own to guess at what it all really means.
If you would like to see yourself ranked according to any sort of meaningless statistic, please request in Discord. The dev Skyvaltz will be your guide to this madness.
Spirit Beast
Despite the constant delays in releasing a build covfefe