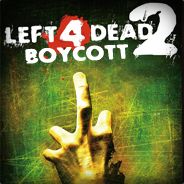 selman_akinci wrote: EDIT: The member count has risen from 5000 to 8000 in two days, surely due to this article too. Thanks for supporting the cause,







THE OFFCIAL L4D2 Boycott Group is open, you can join if you desire so...




Reagrds,
Selman Akinci
As the newly announced L4D2's prices are shown in Amazon, the fans have started a group in steam to boycott the new game. The highly anticipated group has reached over 5000 members by 6/4/09
The group plans to change Valve's direction on the upcoming game. Apparently while games like Team Fortress 2 are $19.99, fans of L4D were not happy to pay $49.99 for L4D to begin with, but when amazon started pre-orders for L4D2 with the same price tag things turned bad.
Now the already newly developing community awaits Valve's decision on the new game.
You may reach and join the group on Steam Page from this LINK
L4D2-Boycott wrote: The few people here who defend the decision to make L4D2 seem to not understand what everyone is upset about. I've tried to summarize the most common issues I've heard people having in hopes that it clears things up:

* Significant content for L4D1 was promised, and never delivered
* Valve put little faith in L4D1 since they almost certainly started working on L4D2 right after release
* The fact that L4D2 is nearly identical to L4D1 will decimate the community for both games
* The announced date is not nearly enough time to polish content or make significant gameplay changes
* The new character designs seem bland and unappealing so far
* L4D2 is too bright to fit in with L4D1's visual aesthetic
* The fiddle-based horde music is extremely disliked, though the differently orchestrated music is otherwise welcome
* L4D2's release will result in a drop in quality and frequency for L4D1 content, even compared to before
* The community has lost faith in Valve's former reputation for commitment to their games post-release
The pictures are taken from Steam forums, I take no responsibility for the content.