We are getting very very close. There are only 4 days left until Kreedz Climbing Beta4.2 will be on your desktop ready to install. This is a Patch update only and will include, contrary to the previous news post, a Girl Climber with 2 skins (instead of the previously mentioned female ninja) and this new map kz_panama, both created by our newest member Dalai.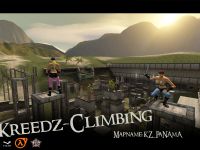 We proudly announce that we will release the patch on 21 December, 2009. For all the trick jumpers out there we have added a speed penalty to the Hatchet model. With this tool you can make an easy map a little bit harder, and a hard map seem extreme. The Art Tool, in case people get on your nerves with it, has a special convar that willl erase all the decals sprayed to keep your frames in tact. rrdecal_purge will do the trick. For all the artists out there you can now change the size of the decals you spray ranging from 4 to 20 in 8 colors with rrdecal_scale.
Here is some more video media to get you more excited taken in testing runs by our #1 World Record holder, Faker, the CEO at Xtreme-jumps.eu, official and largest jumping community for Counter-Strike 1.6. If he is with us, you know this game is now up to par! Below you can view a YouTube version of the Bunnyhop-Raceway mode seen on 1 of the 10 different courses in kz_mix_journeys by SoUlFaThEr, the Executive Producer, Game Designer and Lead Level Designer of the mod.
The video below is a sneak preview of the Double-Duck only mode taken on a mini-map of kz_bhop_tiles by Dafox
Stay tuned also for a brand new design at our home website, www.kzmod.com just before we update you. Everything is coming together nicely and we hope you enjoyed the show.
Happy Holidays to everyone and stay safe!