Because there's no place like a burglarized home, Klepto helps gamers fulfill their suppressed criminal urges using VR, multiplayer and hacking in a variety of sandbox neighborhood environments.
Break into any home and loot nearly anything you can carry while advancing your criminal career from an amateur thief to a high-tech professional. Leverage a variety of tools, disguises and hacking techniques to "strategically acquire" assets as you progress through the single player story or while teamed up for multiplayer shenanigans. Remember, it's only illegal if you get caught. #notalawyer
* VR Support (Oculus and SteamVR)
* Multiplayer
* Sandbox neighborhoods
* Character Progression
* Hacking and Network Simulation
* Powered by Unreal Engine
Although not required, Klepto has been designed with an emphasis around virtual reality including full support currently implemented for the Oculus DK2 and day 1 support planned for the consumer Oculus Rift and HTC Vive. Additionally, future support is planned to integrate popular motion tracking peripherals post-launch.

Klepto is being developed by a small but passionate team of 6 gamers turned game developers at Meerkat Gaming. Leveraging his technical background in the IT security field, development lead Matt Rodwell has designed the game's hacking mechanics to not simply be disguised mini-puzzle game but a network simulation based on real-world tools and techniques used by the pros (good and bad).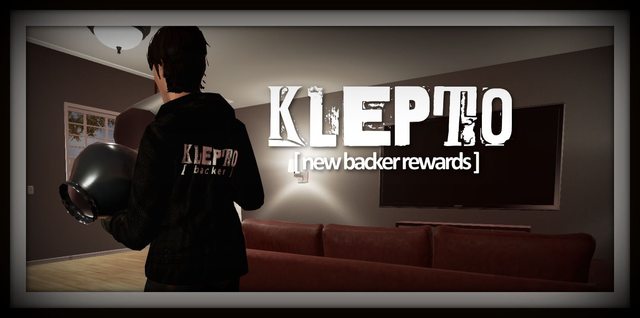 Help support this project by backing on IndieGoGo. Only a week remains to become an early Kleptomaniac and unlock these in-game exclusives. Backer rewards include custom designed houses and characters, pre-upgraded equipment, cosmetic items and beta access.
Steam Greenlight: Steamcommunity.com
IndieGoGo: Indiegogo.com
Official Page: KleptoGame.com
Press: Press.meerkatgaming.com
#################
Meerkat Gaming LLC.
Meerkat Gaming is a small team of indie game and virtual reality content developers founded by Matt Rodwell and Nathan Lauterstein. The team has recently expanded to include three additional 3D modelers and a professional musician. Their business model is simple; make VR content they, as gamers, would enjoy experiencing. Learn more at Meerkatgaming.com<
Press Contact
Name: Matthew Rodwell
Email: press@meerkatgaming.com
Press Kit: Press.meerkatgaming.com