Busy with life, military service and mod stuff. I bet you're most interested about the mod stuff.
Facing some serious problems regarding to code of the mod took some time and thinking. Finally I have solved most of them and aircrafts act more realistic and no longer you can make unreal turns with your own century old flying machine. Now I'm moving on to adding the aircraft climbing and falling features which increases the difficulty of controlling your airplane but making it more realistic aswell. Mod is now quite rough around the edges in 2d art so those are probably next concerns regarding the Dogfight after new aircraft models.
Speaking of aircraft models, spending this weekend on legendary Nieuport 17 favoured by many french flying aces of WW1 it's finally ready.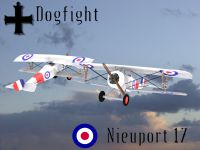 Looking forward getting some maps ready so I can start full alphatesting phase and sharing some info about upcoming gametypes for dogfight mod.
Until next time
-Ztormi