It's a new year but I'm still working the same game, the dream was to have public alpha ready for the New Year but alas not all dreams come true on your time but in time. The alpha is about ready I just want more artwork first but I suppose why not now eh?
Been doing a lot of coding where I have time and fixed some bugs and well as added some new stuff.
New GUI, Shop?
The new UI came out for Unity so I used that to actually create a GUI for the game, this will probably change significantly in the future but here's a look at the first design, starting with the title menu.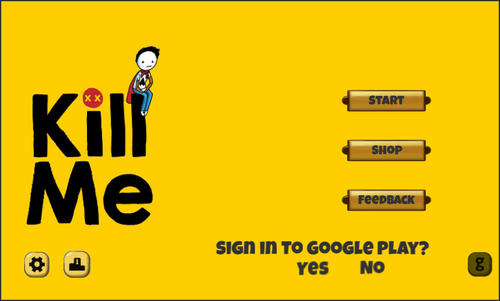 From the image above you might surmise I've added some google play functionality. I've actually implemented leaderboards and achievements so far will be looking to add cloud saves next. The shop is open but on stocked and unmanned. Until I find a shopkeeper items may not be on sale.
For the testing duration I figure I'd add a feedback section where you can email me a comment.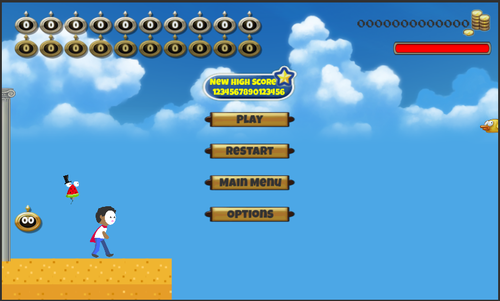 Now the HUD is where there is a drastic overhaul. You will notice 3 counters. Two in the top left and one in the top right and one behind Plateface.
The top left silver counter will show you score as you collect bonuses and cover distance.
The top left bronze counter will show you your bonus score which is to be multiplied.by the counter behind Plateface (which is the multiplier).
The counter in the top right represents the coins collected and the red bar below that represents sir melons laser energy.
If you can tell the big blue icon is your end level score and new high score icon. The rest are the usual suspects; Play, Restart, Main Menu and Options buttons.
Level Things
Created two more level prefabs so there's more variation, still much more to come with that. Here's a look at the existing few, not much I know, but trust me there's more.

I'm going to be adding a new element to game play that I personally have never seen in a endless runner. I will talk about that in the next update.
The birds do attack you now, you can only dodge that by sliding, sittting or using the air attack. Additionally if they grab you to escape you have to air attack or slide, otherwise they pull you off stage.
A New Attack
Lopo now shoots a bloody laser from his eyes. Its in a basic form no graphics added to it yet but to make it interesting I'm planning to have game sound make a difference when it comes on to the laser. Its the only way I known how to interpret hearing in lopo vision as Lopo has explained it.
Video Link: Youtu.be
What you won't see in the video is that LopoVision can steal your coins, some people can just look at you and take your money it seems
Powerups
Are coming...
Closed Alpha
I'm going to do a closed android alpha sometime soon, to be honest I keep putting that off because I want to add more elements to make the game more dynamic.
Here's a link to play this build. Click here to play Kill Me.
Till next time.