So I have been traveling a bit on some vacation, I am not sure what you guys thought of the 1.21 additions but I have heard very little besides Johnny is pretty awesome. Anyway, I would love to hear more from you guys!
So since there are like 6 zaku2 load outs, I realized that I could really get a lot of units with one model if I would just stop being a wuss and do the darn zaku2 model. So i finally caved and modeled the guy.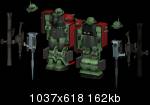 The above shot is NOT in game or redered it is a straight shot of it in the model editor. However, I was so pleased with it I wanted to post the shot! So I am going to go on a bit more vacation and then when I get back I am adding this new model to replace that old dated place holder. I hope you guys are excited, I am.
To those wondering the red shoulders are the team color areas.