Welcome to another news update, A little late in the month I know but its been a hectic month +. My partner and I have finally finished moving into a new place, and after being without the internet for a month are finally up and connected.
Right onto the Mod news.
The bad news first, more of an inconvenience than anything, the site that hosts our repository for the mod is closing about the end of this month so we are looking for someone to put the files, worst case I may be putting together a low Wattage computer to act as a file server and host it at home.
The good news.
We have concepts/renders to show and have gained a better understanding of the code side of the mod.
Code wise we are still without a permanent programmer so there has been no movement there but we have however had a good chat with some people that understand the engine a lot more than I do and I'm glad to say that just about every idea/system that the mod will rely upon has been done/can be done/or at least has some conceivable way to be implemented.
Art wise we have the now final version of Bear from Mad Jojo (minus the orthographic to build from).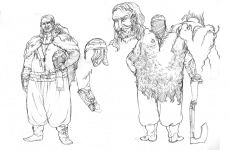 And we have but to wait on the final version of Lucia as the following have given us exactly what we were looking for. Rubicante managed to do these from a few reference pictures provided and by sifting through a big long chat with me rambling.
As such Lucia is almost finalized.
On the render side I have been working on Lucia's swords and Bear's Axe-Gun.
I expect to have them finished by about the end of next week, UV map and all.
All in all that's the news this month, we are still short people which seams to be the biggest hurdle for the mod, as have some solid concept artists that are working wonders, but we need an environmental concept artist and more importantly a programmer to help put into place all the weapons and inventory. All in all if you think you can help please PM me.
End News.