UAN Barracks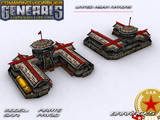 Comrade, welcome back. We have greatly upgraded the accommodations for your combat troops recently. The new and improved UAN barracks contains a state of the art field hospital, an ample fuel supply for its generator (the building will not take power from your grid), and reinforced armor designed to stop small arms fire at ranges exceeding twenty feet. Unfortunately, the traditionalist design of the structure prevents us from incorporating heavy defenses, so it'll go down fairly quickly to enemy armor, but the low cost and impressive, traditional architecture of the building more than make up for that meager con, no?
UAN Weapons Facility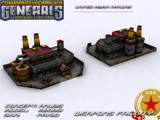 Comrade, these are dangerous and uncertain times that we find ourselves in, the demand for arms is increasing drastically as the war spreads across the globe. Your UAN commanders spotted an opportunity to use the plight of small nations as a means of helping our war effort. We've begun mass producing weapons at an incredible rate so that we can sell them to smaller nations across the globe for a handsome profit. This has not only aided our international relations but has also massively helped increase the production of military hardware. With our new weapons facilities going at maximum capacity, we will be able to triple military production in the first 6 months of the scheme being introduced. We hope the Weapons Facility proves to be a worthwhile enterprise for the UAN high command and we hope it helps turn the tide of the war.
UAN Command Center
Welcome to your new office, comrade. Our new, state of the art, command center comes straight from the start with all the high tech equipment you need to run your army. This building, unlike the barracks, is a fusion of modern and traditional architecture, which allowed us far more leeway- the building is heavily armored to protect you and your command staff.
We hope you've enjoyed our newest update.
This is the EC team signing off.