Greetings Pioneers,
Kyle here, bringing you the latest on developments over at Flix Towers. This week we have something super uber buff to share with you guys. The first ever screenshots from Eden Star Multiplayer. We have been playing the early multiplayer build in the office this week and been having a lot of fun with it.
By fun with it I mean running round a map constructed of our shiny new Buildables screaming abuse at each other and shooting each other in the head...or in my case not shooting people in the head and firing a volley of warning shots, narrowly avoiding my enemies target before they ultimately kill me.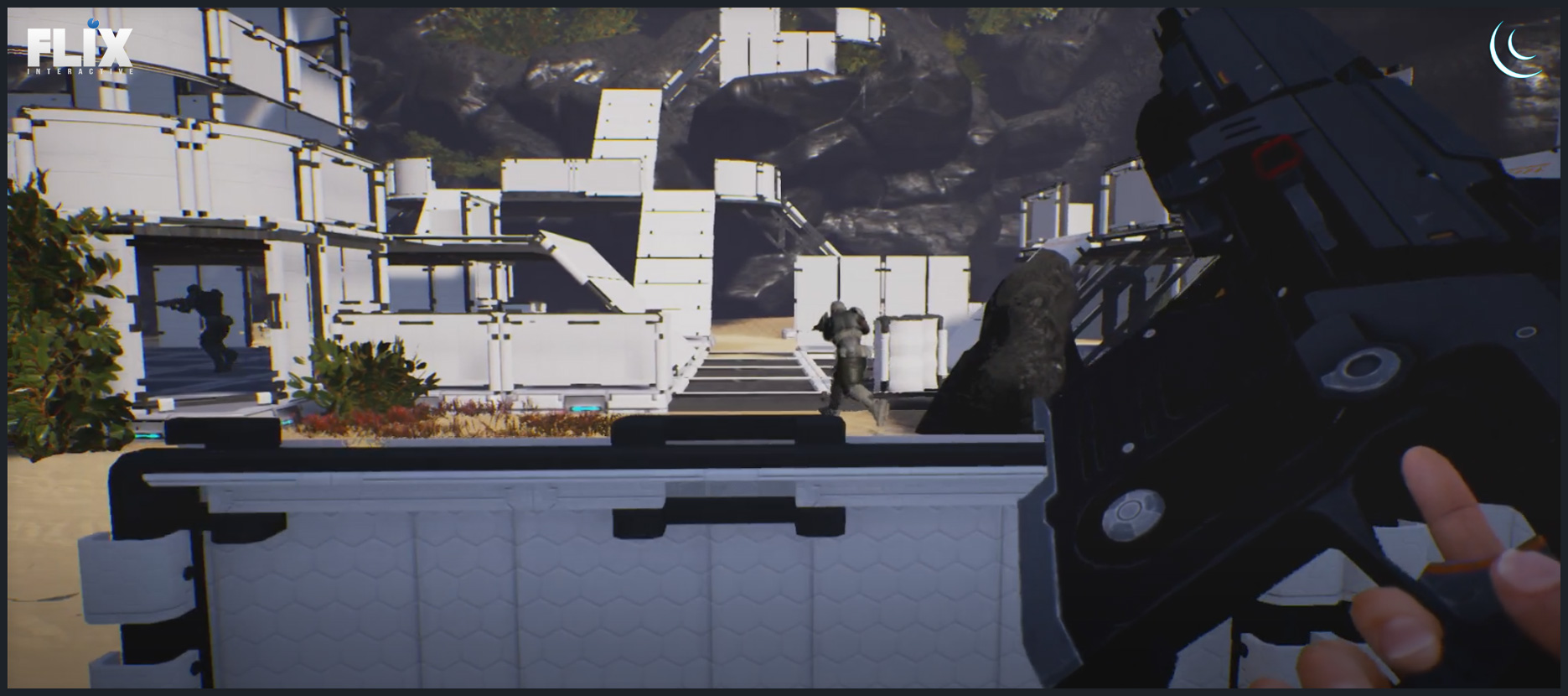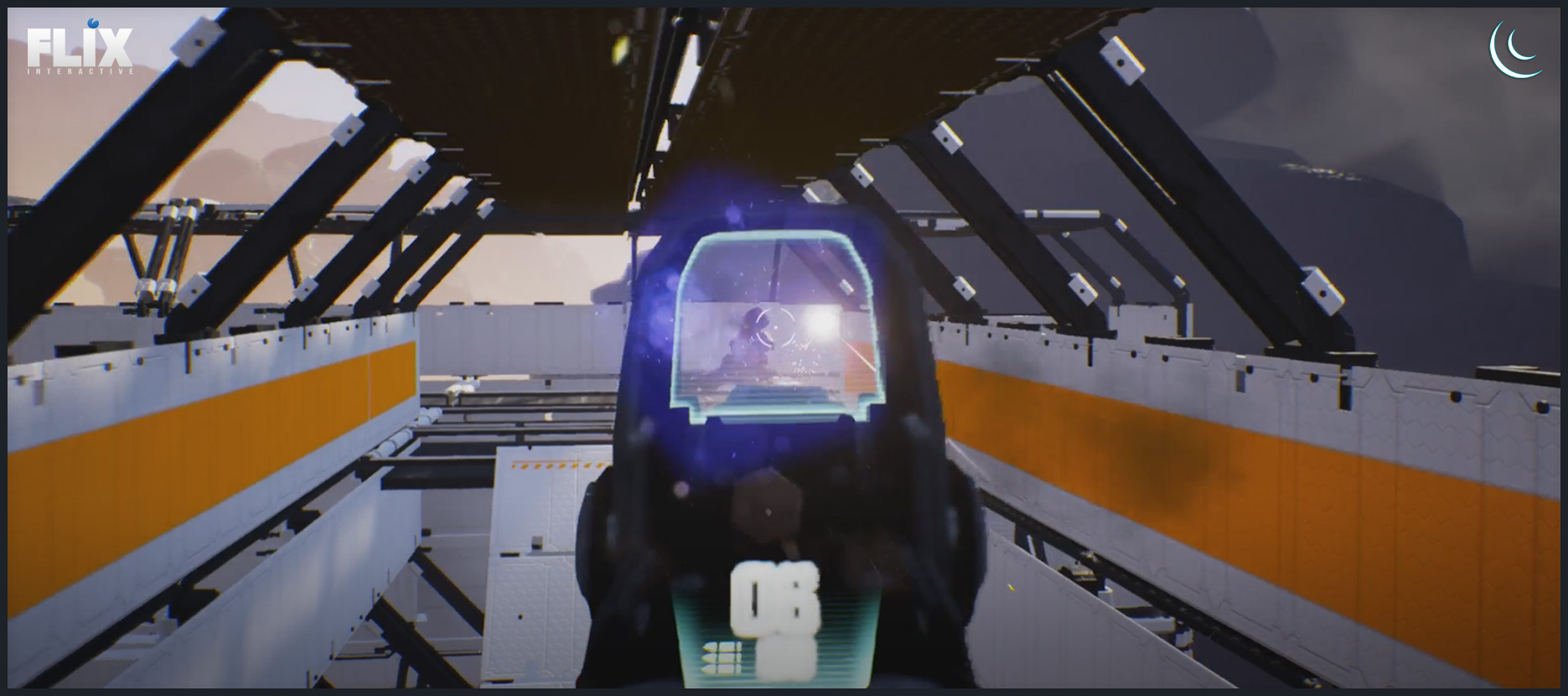 Any who enough from me, I'll first hand you over to our resident Quality Assurance Lead and Cephalopod Overlord Andy to start our Development Update. Take it away brother!
Andy - Lead QA
This week I've been dealing with annoying work experience kids, writing unnecessary blogs and testing things. *drops mic and leaves*
Gav - Concept Artist
*Picks up Andy's mic and puts it in his pocket to take home* This week marks us having completed an initial concept for every creature in the immediate future biomes. Lots of orthographics, lots of sketches and lots of orthographics. That's right, there's so many orthographics I had to roll the first load over to another 'orthographics' word on the list of things we've been up to. Cheers! *Drop's Andy's mic and then picks it back up again, feeling bad that he dropped it in the first place* (Sorry Andy; it's totally broken by now)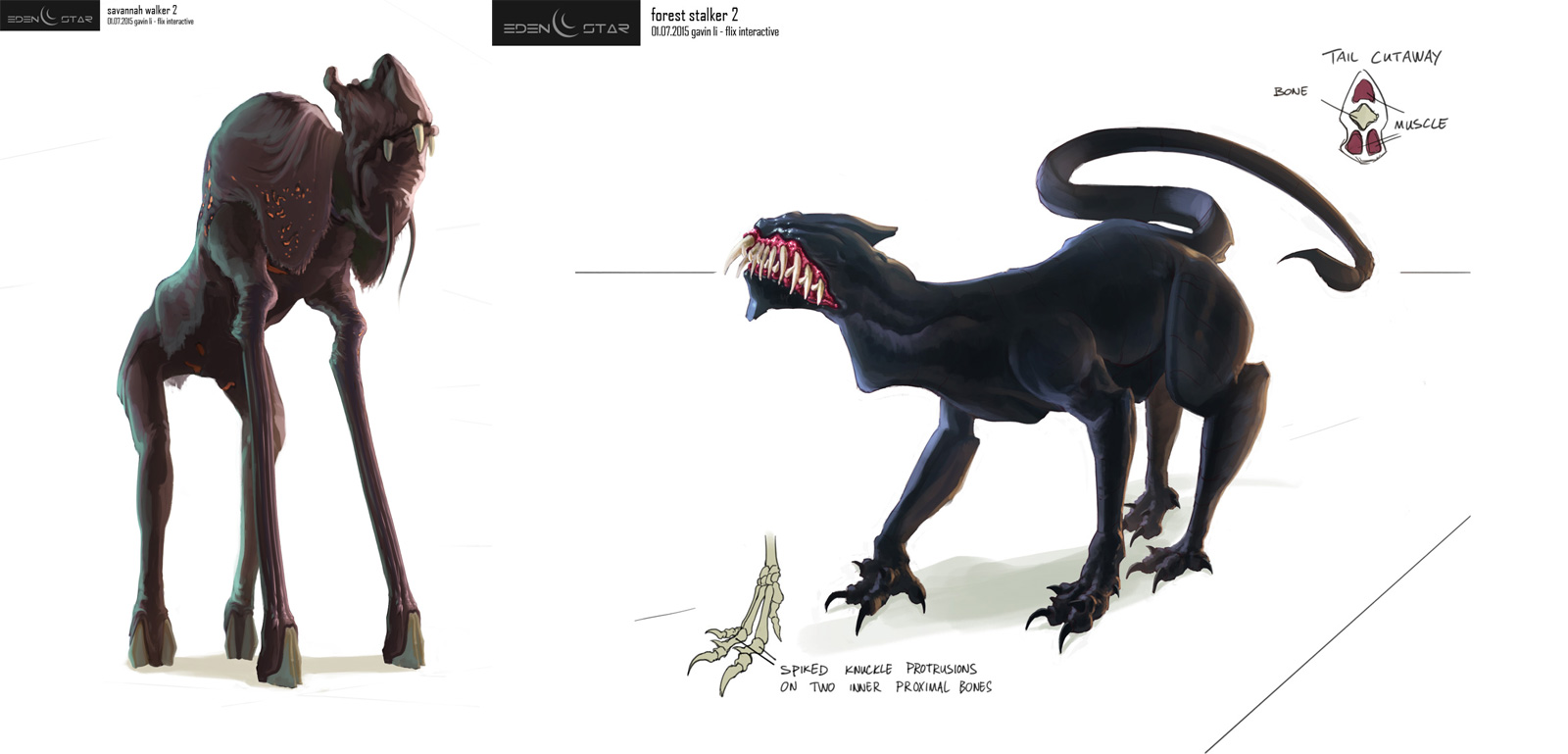 Lee - Technical Director
This week I have been continuing to work on the pathing for the the benign flying fauna, The Nahmar. I have also implemented on the rather incredibly titled flora fauna spawner; this enables us to randomly spawn interactive flora and fauna throughout the map.
Tristan - Senior Developer
This week I have been working on bug fixing to do with saving so people can still use their old saves for a while longer. On a more fun note I have also been looking into a bug we like to call tree surfing. It's quite entertaining.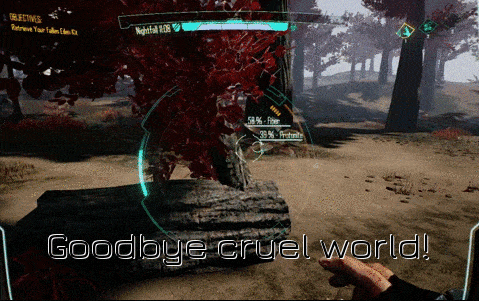 Yves - Senior Developer
I last week I said there was a surprise, but you are going to have to wait for it I'm afraid. This week we have a very early prototype of multiplayer which caused lots of shouting in the office (mainly because everybody here plays the game very badly and they kept blaming each other for their losing), I'd tell you what said prototype contains but then I'd have nothing to tell you next week.
Carlos - Developer
This week I've been working on some UI elements for the multiplayer lobby. Our new shiny graphical options have also been finished, hooray!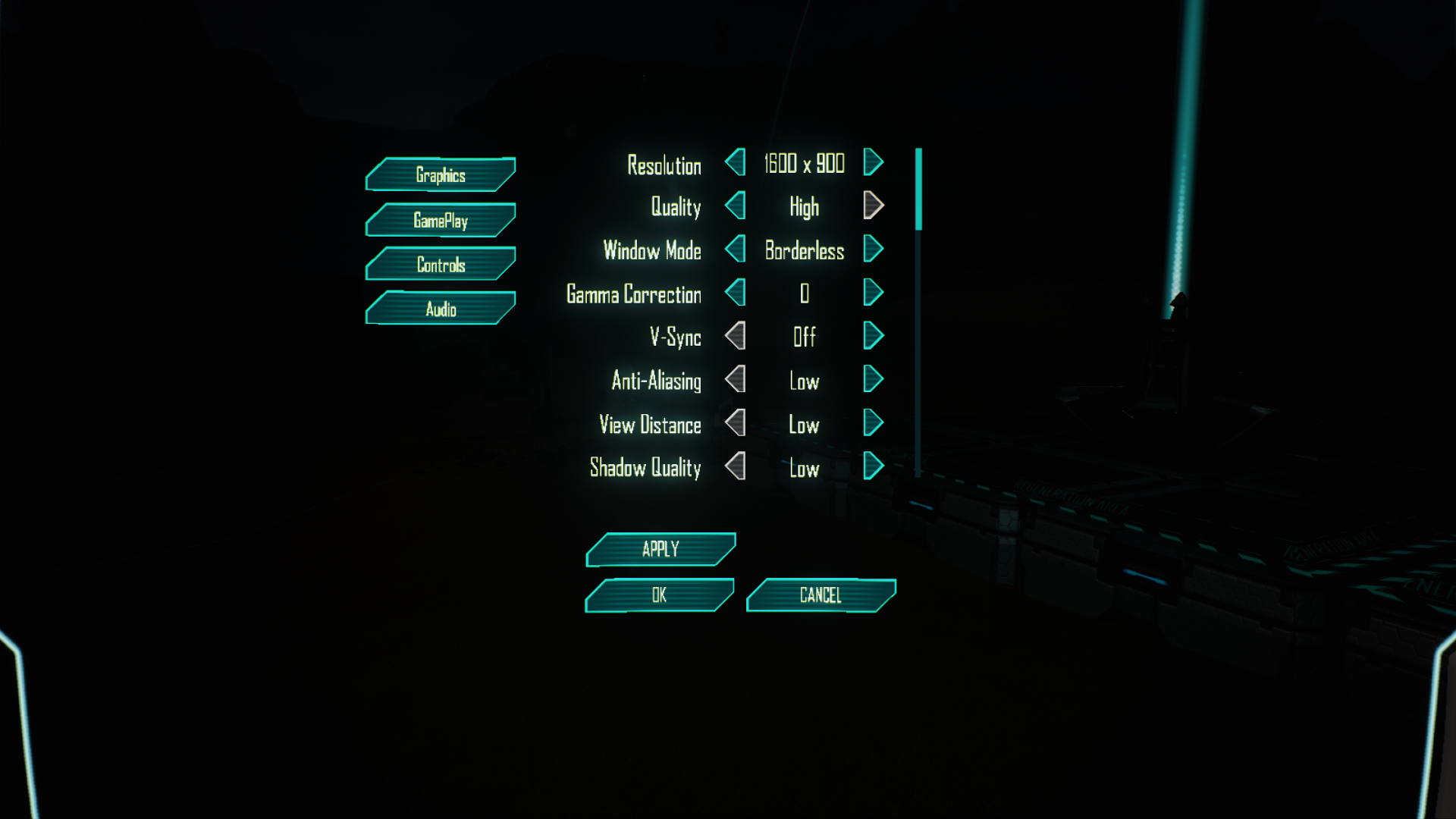 Matt - Art Director
I have been working on finishing the base set of assets for the new build as well as icons for the menu. I have also been working on expanding the multiplayer map that was shown last week, to include a forested area to play in. This map will be used internally for testing the multiplayer mechanics but also as a benchmark for the level of quality and density we want to achieve in the main game.
Chris - Designer
This past week I implemented the new Exploding Sac Plant and set it up into the world with a Flora-Fauna-Spawner (try saying that 5 times fast) along with setting up Epic's new Navigation Mesh system which now supports dynamic streaming allowing us to improve performance. Finally I have also been working with our environment artist on new processes for level creation.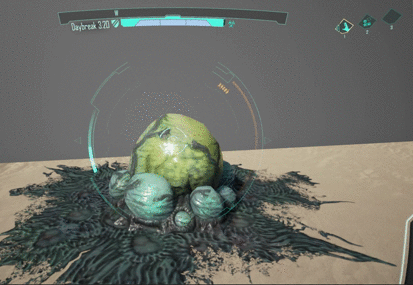 Ricky - Developer
Has been languishing in the resplendent British summer time on a well earned break.
Joe - Environment Artist
Over the last few days I've been finalising the visuals for our new Exploding Sac Plant, as well as working on some top secret exciting new processes for level creation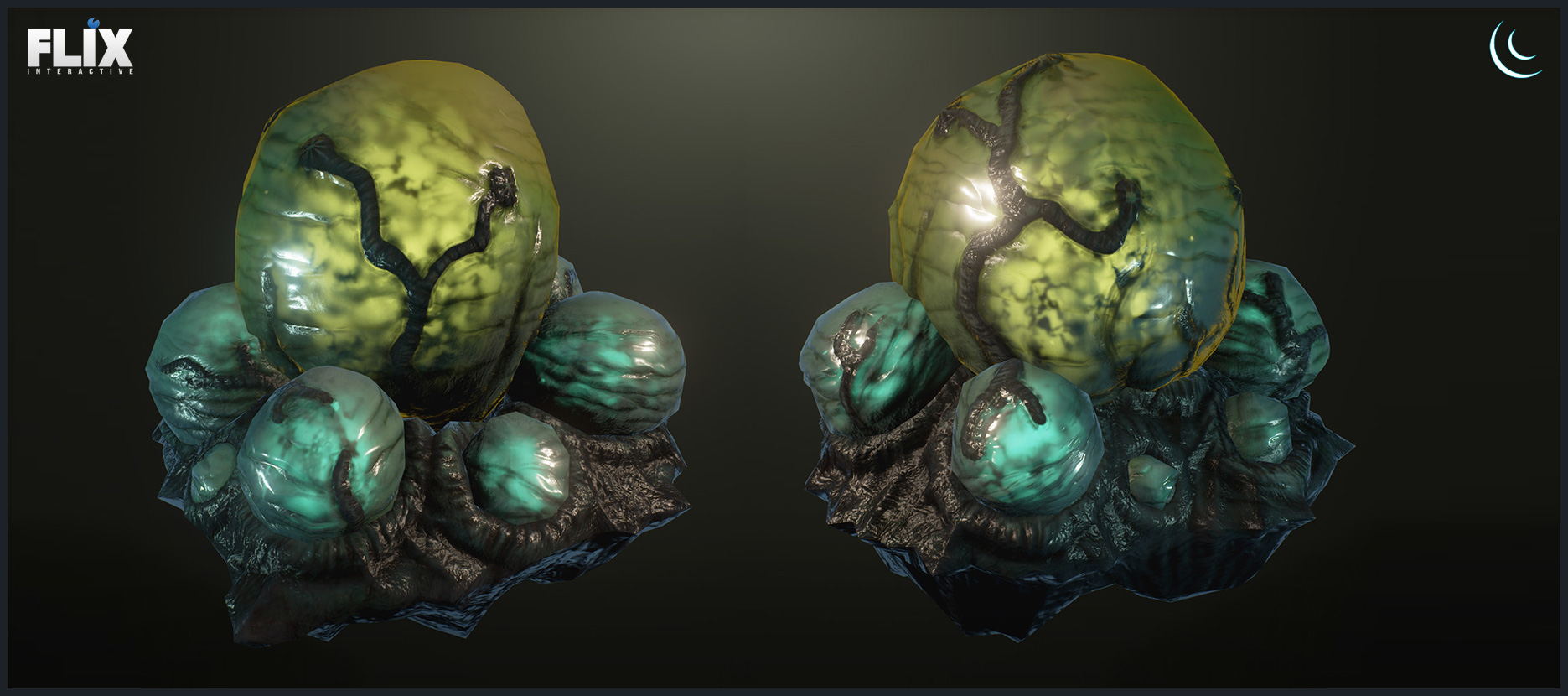 Lauren - Animator
This week I have been tweaking multiplayer animations, getting the aiming to replicate across the network (so I can tell when I'm about to get shot in the head). I have also been debugging the Nahmar animation blending, fixing its recovery and adding some fun sounds for interacting with it.
That's all for now folks, as always you can keep an eye on our more immediate progress with our Public Trello Board.
Happy hunting Pioneers!