We wrap up 2014 with a flurry of announcements!
1. We are growing ever closer to launching our Kickstarter campaign.
For those of you who haven't yet, you can still Join the 3000 and reap all the benefits of Pre-Kickstarter access.

2. New Social Media Director!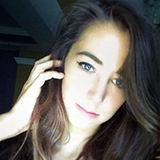 We've hired Julie Archer as our Social Media Director. Julie is a writer with a Political Science degree and is working towards a masters in Mass Communications. She will be doing updates to our FaceBook page, Twitter, our News forums and other game related forums on a regular basis. We're really lucky to have her on board. So please take a minute to say 'Hi' to her in the forums! Be nice, we like her...don't want to scare her away.
3. In-Game Voice Chat!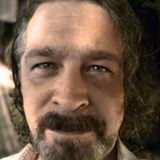 Dev8 is back and he's adding in-game voice chat! Dev8 aka Peter Gransden did our very first bit of game programming back in the Aureus VR days. He added a simple paintball game and a crazy weather/tornado effect to our sleepy online building community. It got us started down the road to a full blown game environment like Blood Clans and now to the combination of both live building and gaming in The AlterVerse Project! Voice chat will be very useful for people wearing the Oculus Rift or other VR goggles and let's face it, who really likes typing? We're glad Peter's back bringing us more fun and useful features!

4. Tap-Link and Avii - Our Advanced Virtual Intelligent Interface!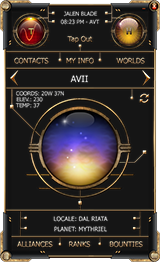 Please welcome Avii, our new talking interface! Or...maybe we'll let her welcome you! What advanced communication interface doesn't talk right? Well that's what we thought when redesigning the Tap-Link and the integrated in-game GUI. Most of you have no idea what the Tap-Link is so let me back-up. When you launch the new game the first thing that will pop-up is the Tap-Link. You will be greeted by a friendly female voice we call Avii (sounds like Evie with a long A). Next you will log in to get to the main page. Here you'll have options to send and receive instant messages (TAPs), add contacts, check your own stats and ranks, and even see if there's a Bounty on you! All before you ever enter the game! It's very cool, you'll see. Then after you open the Portal, Avii follows you into the game as well and will be your guide giving you friendly reminders and hints as you make your way through treacherous worlds and quests. Can you get the Tap-Link on your iPhone or Android so you can check in when you're on the move?
Pfft, of course! What do you think we are...noobs?
4. We have a new Video Blog (vlog) News Announcer, Ana!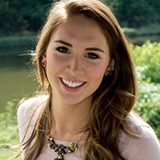 Ana will be coming to you live from the AlterVerse with all the latest in-game news and gossip! Her vlog will be posted front and center on the main page of the website and will be updated every week as she visits the various worlds, moons, kingdoms, realms, homesteads, and nooks and crannies of the AlterVerse! Fearlessly and single-handedly she will battle the elements, the gargoyles, gnomes, boglins and other creepy crawlers to give you a sneak peek into what's to come for all of you!
Kickstarter campaign: We're currently working on a new video that will be more game-play focused. After a lot of feedback, we felt the first attempt was too back-story focused. We also felt the Tap-Link needed a better look. It was too iPhone like in it's appearance. And, we wanted to get the in-game GUI updates in place before doing the next video. They both turned out to be large projects in their own right. We're very close to having them complete now though and will be finishing up the video and launching the kickstarter campaign in the first quarter of 2015!
Well that's a wrap for this Newsletter, I'm going to turn it over to Julie from here on out. She's a lot better at this than me. And, hopefully a lot more consistent. We're planning to get a newsletter out to you once a month hence forth.
We have a lot more coming up in the new year so stay tuned for our next newsletter!
Happy New Year!
We'll see you soon in the AlterVerse!
www.AlterVerse.com