We are happy to announce that we have started two new community video features with INspiration Shows and Developer Video Blogs.
INspiration Shows
We are hosting our INspiration Show this Friday, July 17 on our Twitch.TV channel at 7:30 PM EDT. We will be playing the classic PC game, Giants: Citizens Kabuto. Giants:Citizen Kabuto is like the current popular game Evolve in a few ways. The game offers co-op vs monster setup and other RPG features. We will play the game and go over how the game influenced us in designing Imagine Nations.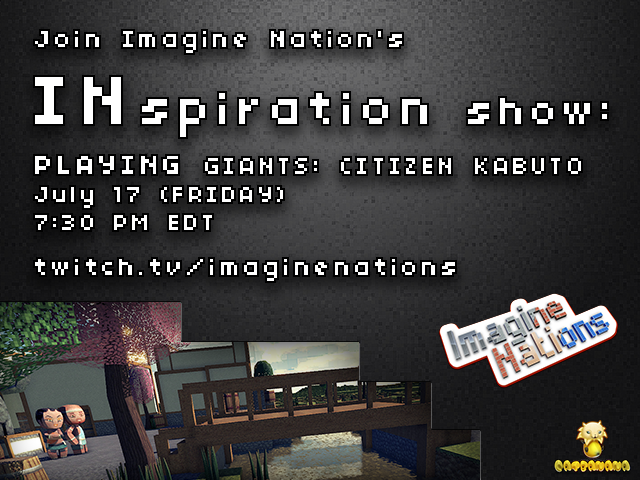 In our previous INspiration Shows, we highlighted the games Fallout: New Vegas and The Guild 2, where you can watch on our YouTube Channel.
Developer Blogs
The team started a new community video blog feature for everyone to enjoy. Our first two blogs are posted from Ted (Music Composer) and Charlie (2D Artist). Enjoy!
Imagine Nations - Dev Blog #1
Imagine Nations - Dev Blog #2
Thank you,

- The Imagine Nations Team
Subscribe to our Twitch.TV Channel!