With the internet these days you never know how secure some materials are from the all seeing eye of the world. This holds true to the Mad Scientist's blueprints, these leaked materials of great significance show off some of the contraptions that evil mister has been creating in order to take over Johnny Scraps scrap yard to steal his shiny bottle cap collection.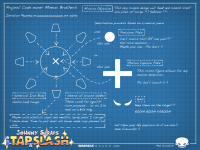 The Mineac Brothers
Mineacs represent Johnny Scraps: i Tap & Slash at its atomic level. Mineacs seek to destroy anything they can bump into. They will appear in large numbers and will crowd the sky if not destroyed. It seems there are two different mineacs currently in production: TAP and SLASH. TAP simply need a finger press and they will become goners, Slash will need a fast finger stroke and in a spark filled sky they will join the others.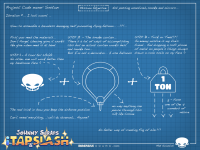 Smitons
Make sure you leave your fingers off these smiling faces carrying a ton of weight (unless told so). You don't want that weight on your shoulders after it smashes against our scrap barrier. Smitons were created with the single purpose of allowing other enemies to progress towards their objectives while making cover, distraction and if possible some significant damage. Proceed with caution when dealing with these guys!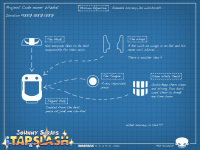 Wizbats
As the name implies, Wizbats are flying sorcerers (Wizzard + Bat). They are our primary targets when on the field. Make sure you destroy them first, if not, they will fly in the air and provide protection to all their team mates while showing off their schmuck face, only leaving a little window of opportunity to destroy others. The best thing you can do is smash that grin into oblivion as soon as that possibility presents itself.
Johnny Scraps: i Tap & Slash is a smasher for mobile, currently in development using Unity, and is set to iOS, Android and Windows Phone later this year. You can follow development HERE or at our DEV BLOG.
Don't forget to befriend Johnny Scraps at his Facebook page and follow Immersive Douro at Facebook, Twitter and Twitch where you will be able to see the level creation process. (Normally: 3pm - 6pm | GMT + 1:00)
Ready to get those fingers burnt?