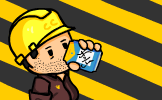 The iPhone release date for John Q Averageman has finally been set. On November 3rd, you can enjoy everyone's favorite beer drinking fat man on his eternal quest for that sweet sweet alcohol. With 8 unique worlds, 80 playable levels, and tons of laughs, John Q Averageman is a can't miss.
Can't wait for the iPhone release? Well then you are in luck. John Q Averageman is currently available for free on Kongregate.com or on your android device via Google Play or the Amazon Market Place. Be sure to rate and review if you play as this helps us craft a better experience for future updates and games.
If you haven't already, watch the trailer below.
We look forward to hearing what you think.
-The Bomb Shelter Games team