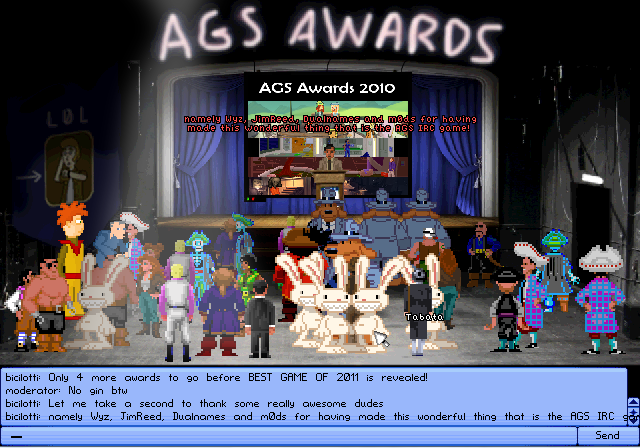 Landslide victory for "The Journey Down" at the annual AGS awards
Every year all games created with "Adventure Game Studio" are rounded up for an annual award ceremony where the finest of the finest battle for great indie developer glory. This years ceremony was unique in that it was accessible via a multiplayer game, built in Adventure Game Studio itself. This way, contestants and onlookers from the community could log in to the actual ceremony and take part of the event in real time. Moderators and organizers took the stage and winners, when announced, had the opportunity to climb into the spotlight and bask in the great glory of indie stardom.
Out of 17 awards, the freeware retro-styled demo of "The Journey Down" made a landslide victory, winning as many as 10 separate awards, one of them being the coveted "AGS game of the year" award. Other praised games at the ceremony include "Snakes of Avalon", "Technobabylon I and II" and "Eternally us".
"The Journey Down: Over the Edge" is the free-to-play prototype version of the soon to be released, fully speeched and high-res "point and click" adventure game with the same name. Chapter one of the high-res retail version is aiming for a 2011 Q4 release and its development can be followed on www.skygoblin.com.
"Adventure Game Studio" is a toolkit for development of traditional "point and click" games and can be downloaded for free from www.bigbluecup.com.