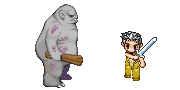 How are you guys liking v1.3 so far? I hope your enjoying the game as much as I am enjoying the feedback!

Thank you to all the youtubers who are doing LP's for the game, I always appreciate your play throughs and reactions, so watsup with v1.4 you wonder? Well after releasing the patch just recently I decided to back over the game and do some tidying up, a few bugs and glitches were still present and I didn't like that very much ha!
This version provides fixes to the following:
Return to title menu from load scene bug fixed [before would crash game, now returns to title without errors]
Properties for large stone in resolution scene fixed [before above char., now below]
Missing file errors fixed
Font issues fixed
Loading for scene with Shyla on porch looking down fixed [static for a second before, gradual fade in now]
Text out of message window in a few sections fixed
Screen weather update fix from woods to Shyla's yard [before rising particles stayed, now when in Yard falling leaves again]
Text at end of demo displayed incorrectly [before last line was left aligned, now it is centered]
And some other edits to the general system core
Reduced file size with some compressing and tidying up
Also a new feature has been added:
When around monsters in the game, if you don't want to fight them just hold the SHIFT button and dash right through them!
So go ahead and get the new version from the download section!