For the last seven years, Jazz Jackrabbit 2+ has all but defined the the Jazz 2 online community. This latest and greatest release adds several pages worth of fixes and new additions, including a new multiplayer gamemode (the fifteenth), major code improvements to Treasure Hunt and Race gamemodes, user-written "mutator" mini-mods that can be enabled or disabled in any online server, code for loading external image/sound files for use in scripted levels, a better internal level browser for downloaded levels, improved gameplay for when transformed into a bird or frog, improved reverse gravity gameplay, improved cheat codes for single player games, new sprites and animations and image-blending modes, and plenty more!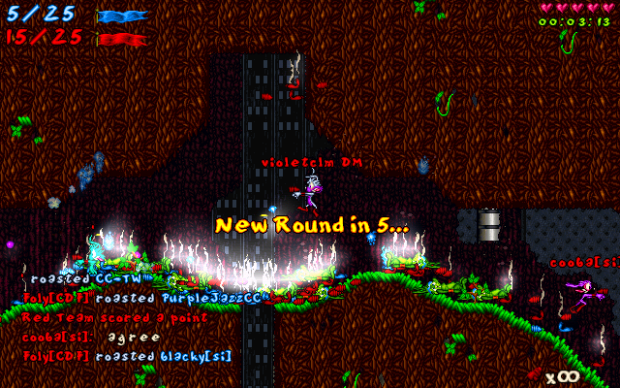 Jazz Jackrabbit 2 was originally released in 1998 by Epic Games, now better known for its Unreal Engine and the Gears of War series. Although the last official update, version 1.24x, was in early 2000, the Jazz 2 community has remained strong and creative to this very day, with thousands of custom levels, tilesets, remixes, and more all still available for download. Since 2008, the Jazz Jackrabbit 2 Plus mod ("JJ2+" or "Plus" for short) has given Jazz 2's multiplayer and single player gameplay more depth than ever before, with a mind-numbingly-long list of features and bug fixes that put Jazz 2 on par with any of its modern 3D competitors.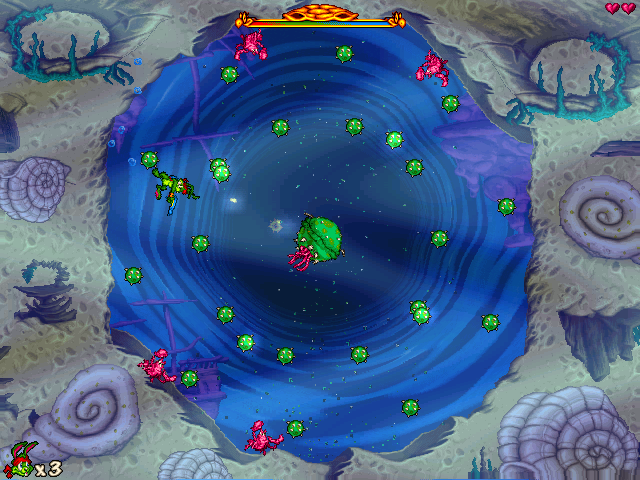 Players can clash together across fifteen different multiplayer gamemodes (some team-based, most combat-based) with ten different major weapons (all but one of which can be powered up to deal more damage and use different graphics and/or movement), or else sit out a round in JJ2+'s exclusive spectator mode. Play for fun or in competitive ladders and scheduled events, on your own or in a clan. Use the traditional weapon system, or turn on Mouse Aim to take extra control of your gunplay and take down your opponents with perfect shots. Chat to everyone in the server, or team chat with people in your own team (blue, red, green, or yellow), or whisper a private message to a friend. Emulate IRC channels with /me text or highlights. Type console commands as the server's host (or as a logged-in remote administrator) to tweak countless game options. Expand your own homemade levels (designed in Jazz 2's easy-to-use level editor) with JJ2+'s scripting language, either by scripting an individual level or by writing your own mod to be run inside of JJ2+. Load graphics and sounds from external files to craft your own weapons, game modes, or entire new games.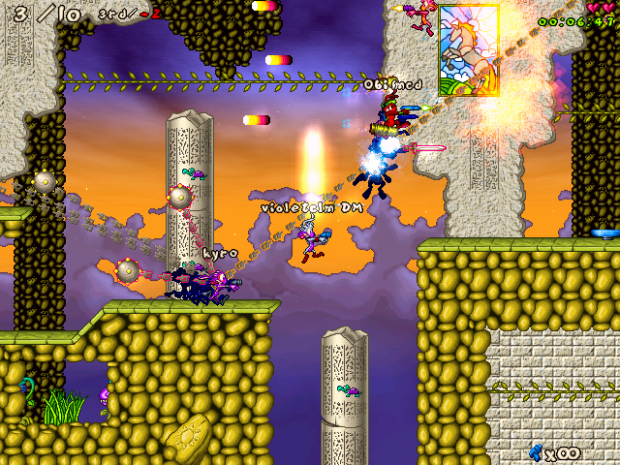 Jazz Jackrabbit 2+ retains all of Jazz 2's core gameplay that has delighted for the past seventeen years, fixes as many bugs as it possibly can, and provides you, the player, with all the tools you need to craft your ideal 2D arena shooter experience in the online server, in the local single player game, or in the level editor. A registered version of Jazz Jackrabbit 2 version 1.23 or 1.24 is required to play, although naturally no illegal download links will be provided here.

Note that Jazz 2's playerbase is primarily located in Europe and similarly-timezoned areas, and online play mostly reflects this: when Europe is awake, you'll be able to find people online to play with, but when it's asleep (read: afternoon and evening in America) you're better off playing Single Player or creating your own content instead. Fortunately there are many hundreds of single player maps out there for you to try, and a dedicated community to help you out with your level, tileset, or script making needs. :)
JJ2+ runs on Windows XP or greater or in the WINE emulator. It may not run well in full screen on Windows 8 or 10, which have limited Direct Draw support.