We're happy to announce that Jagged Alliance: Flashback is now live on Steam. The team has pushed forward these last weeks to polish, fix bugs and balance the game. This last week we've made major leaps and with the help of the very dedicated community testers, we have been able to crush some of the nastier bugs. BIG THANK YOU!!, we needed your support.
We thought the game deserved a proper trailer for the release, it turned out pretty damn awesome, so let's kick off this update with a bang.
Words from our CEO, Thomas Lund
A lot of people have asked us what happens on the other side of the release. The answer is "it depends". It depends on sales really. We have to feed our families and pay the bills like everyone else, and only if the game sells will we be able to do bigger expansions.
BUT - we have a track record of post-launch support, and we are dedicated to that for JAF as well. So coming up in some weeks from now will be a free upgrade with some of the content that didn't get into the 1.0 release.
Read on!
The first 2 things are features we really really would have loved to have in 1.0, but that didn't make the deadline.
- Weapon attachments
Scopes, silencers, ammo extenders and more!!
- Ammo types
Armor piercing, hollowpoint and other nasty pieces of lead Additionally we want to add more content to the game. So
- Soviet weapon pack
As pointed out by the community, we added a lot of western weapons to the game. Its time to look at the old Soviet weapons and get a batch of them into the drop tables. And lastly 2 features that didn't turn out as great as they could have. So we will fix them up and polish:
- Shotguns:
Making shotguns look and feel more "blasty" - make them shoot multiple projectiles at once, so you get that great "buckshot" feel.
- Better shop interface:
A proper shop with images, stats and also ability to sell your items again
What is on the horizon past that is a big unknown. Bugfixes are a given, but content wise we don't want to promise something we can't deliver. So let's see what happens over the next weeks.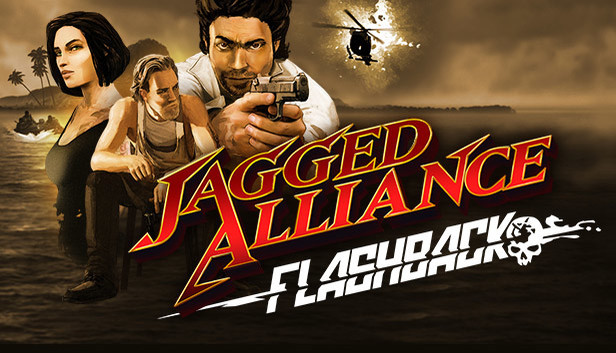 The team has been running on full steam the last month or so, with a programmer clocking in 80 hours last week. We are a passionate bunch and will continue to do our best to support you and Jagged Alliance: Flashback. What the future holds, is still not set in stone, but for now we'll have a piece of cake and a glass of champagne and then get back to work :)
Want to Buy?
Jagged Alliance: Flashback is available on multiple Stores:
Steam: Store.steampowered.com
Humble Store: Humblebundle.com
Green Man Gaming: Greenmangaming.com
GamersGate: Gamersgate.com
Mac Gamestore: Macgamestore.com
Until next time!
The Full Control JAF Team