Content complete! That's all art, effects, sounds and music in the game. Now it's on to bug fixing and platform specific features such as Game Center support.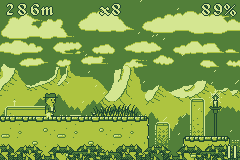 I'm estimating a release for the end of September for the mobile version of Jack B. Nimble. Right now the platforms will be Windows 8 and iOS - I'll see how the demand is before spending time porting to Android (as I don't have such a device for testing, and I would like to justify the cost of a device/dev time).
It's been a while since I've put up any video footage of the game as it is now, so here's a Vine: Vine.co
Oh and here's a bonus GIF!