Now that the combat engine is playable (and rather fun, if I do say so myself…), our attention turns to the mega-game in Harmonia Tactics: the liberation and defense of regions on a kingdom-wide scale. Our first task: developing a world map that allows players to see the relative strength of friendly and unfriendly forces overlaid on the terrain. The map needs to show both hostility and density levels that update as dominance shifts in each region. The players can then decide where to focus their efforts and where to steer clear of.
We've gone through a number of iterations already, and we're nowhere near done trying things. Most of these are cooler-looking than they are actually useful.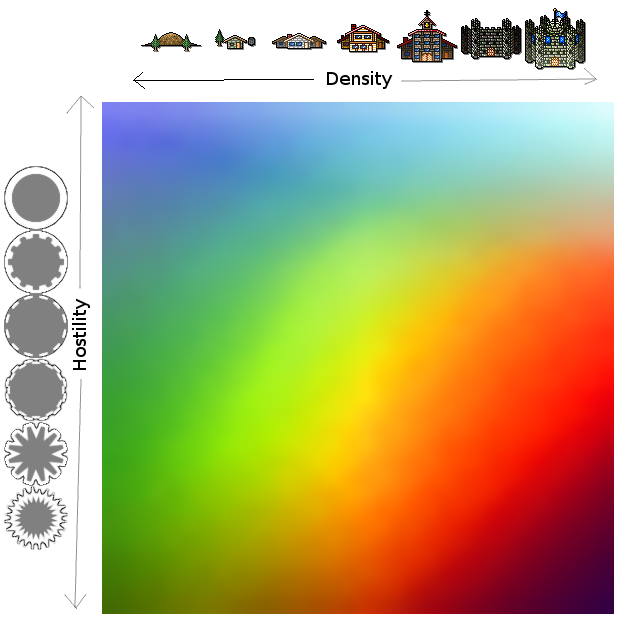 Here's how the color/icon scheme works. Density is indicated by a structure icon, ranging from uninhabited to fortress, which appears within an occupation bubble indicating friendly or enemy dominance in the region. The color spectrum is more of a composite of these two attributes, intended to show general hazard level. Friendly areas appear in blue from dark to light according to density. This allows the players to see safety on the map and help them avoid combat when travelling. Hostile areas range from green to red and light to dark with dark purple reserved for the largest enemy strongholds.
There's still a lot more to hash out and we're far from finished. Stay tuned…