It's the weekend, so that means I get to share all I worked on last week in another edition of the Developer Diary Digest!
Since I released the demo on Sunday I've been working on experimental prototyping; not all of it will survive, but it's a fun excursion.
The most successful prototype has been a 'potion' system. The idea of Village Monsters is that it's set inside an old video game, so I'm always thinking of things that could be 'artifacts' from the original game. Potions seemed like a neat way to have that + add all sorts of fun and unexpected ways to play with the systems in the game
Potions will range from useful to the bizarre. You can control time, change your look and other attributes, and even do things you wouldn't - like control the weather. Like I said, it'll get pretty weird!
The system I made for potions allows me to whip up new effects in only a few minutes, so expect to see a lot of them.
Work on potions lead to improve the amount of item info I give players on items, so I began to prototype the idea of item cards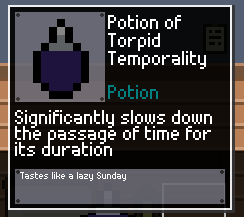 But I also want to use item descriptions as a way to tell stories. This is something other games have certainly done (Souls and Nier come to mind), but I've yet to see it done in a life-sim game where your items aren't swords and shields but rather furniture, decorations, and collectibles
I want a chair that you earn via a quest or hard-to-do challenge to be more meaningful and interesting then one you bought at the store; stories are one way I'm hoping to do this.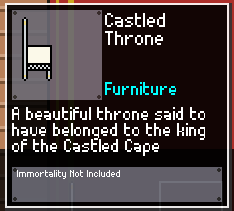 All items with stories can have their item cards 'flipped over' to view a short snippet related to it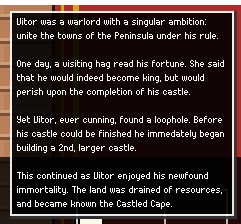 (text and graphics are all placeholders btw)
While messing with item-related stuff I went ahead and crossed off some of the smaller features on list: selling items, an expanded inventory, and basic dialog choices.
Finally, I had something of an incidental inspiration that I'm really happy about!
I worked a lot of critter behaviors this week - things like patroling around, running away from humans and other predators, and so on.
I ended up using the player house to test things instead of a debug room, and after I was done I left the little guy there and went to do other things. Each time I came back to the house I saw him running around, and it hit me - wouldn't it be cool to allow critters to become pets?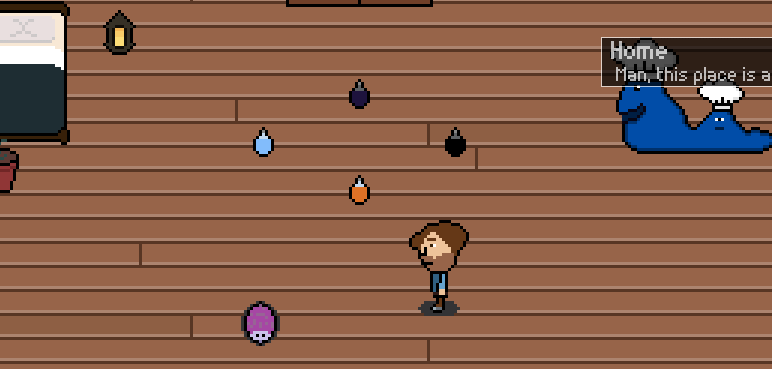 You were always going to have a dog, cat and guinea pig as pet choices, but the idea of letting other critters be 'domesticated' into a pet really struck a chord with me. It also makes catching critters a bit more interesting after you donate them, and gives a valid path beyond just selling them
I worried a bit about feature creep, but I have the systems there to hook it up pretty easily and I dunno, if I keep it lightweight enough I think it could be really cool! Pets are definitely something games like Animal Crossing really lack in
Until next time!