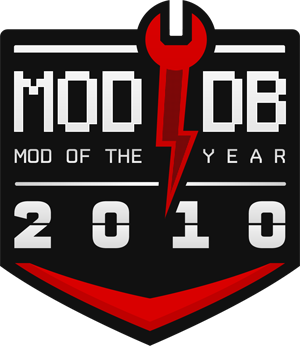 In 2007, Renegade 2007 was nominated for the Top 100 upcoming mods of the year.
In 2008, Renegade X won 3rd place and received the Best Upcoming Mod of the Year Award.
In 2009, Renegade X won 5th place and received the Best Released Mod of the Year Award and runner-up Best Multiplayer Mod.
And now, in 2010, we call on you again.
We've released 5 beta candidates since our first beta was put out in 2009. Although a mod cannot win in the same category twice, Renegade X is eligible for an Honourable Mention, which, we'd be honoured to achieve.
ModDB voting is done in two phases. In Phase 1, which lasts from November 14th to November 30th, mods are voted in to the Top 100. In Phase 2, the Top 100 will battle it out for the annual Mod of the Year awards. You can vote for however many mods you'd like.
We will need a vote from each of you both in Phase 1 and Phase 2. To vote for Renegade X, simply visit Moddb.com , scroll down a little, and hit the big green "Vote" button.
Every vote counts! Tell your friends, tell your neighbors - and be sure to revisit our ModDB page on December 1st for Phase 2 voting.
Be sure to support other Command & Conquer mods like Red Alert: A Path Beyond, C&C Reborn, Red Alert: A Path Beyond, The Forgotten, and others!