About two weeks ago we sent the 1st version of the game to Apple and waited eagerly to hear from them. Some set back or other happened and we had to resend it and wait another week for it to be revised and, finally, approved!
We are happy to present our first mini game, our very own LAME version that we hope you'll enjoy if at least for a little while :)
Here's the link where you'll be able to access the iTunes store for your free download.
Itunes.apple.com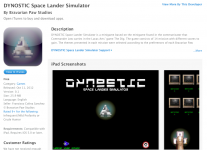 Please keep in mind it is our first game and it is prone to have errors, lots of errors; so if you'd like to contact us about any you can do so through a message/comment here on indiedb.com or here!
Make sure to watch the promotional video "Presidential Announcement" included in the application!