Hello and welcome back to another Forgotten Hope 2 update.
Today we would like to show you a render featuring the M1938 and M1944 Mosin-Nagant carbines, but before we get to that it's that time of year again...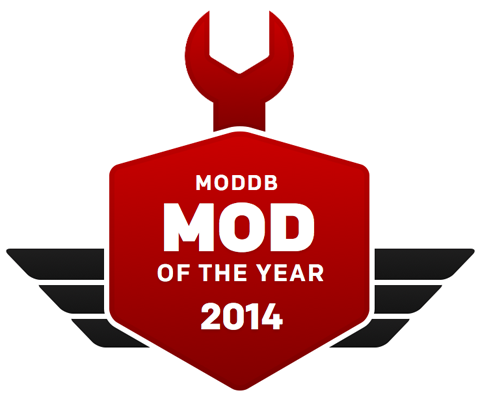 No, not Christmas. It's voting time for the ModDB Mod of the Year 2014, and FH2 has made it to the Top 100 again. We'd like to say a big thank you to our fans for voting us this far, and we hope that you will vote for us in the Top 100 round as well.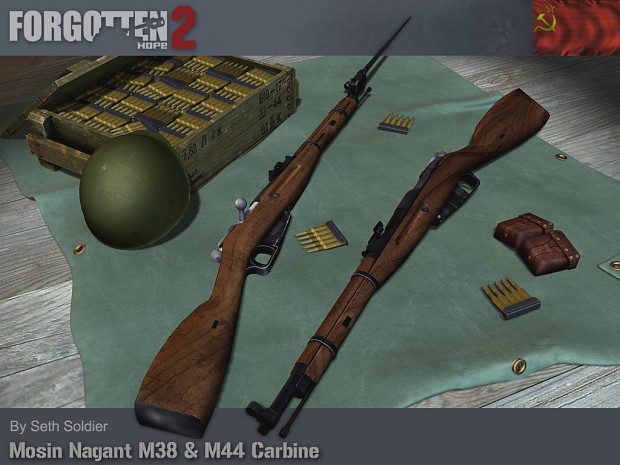 The adoption of the M91/30 rifle gave the Red Army a modern and dependable rifle. However, they were still using the M1907 carbines, which had been out of production since before the revolution and were based on the older M1891 rifle. The design for the new M38 carbine was finally accepted for production in February 1939. It was essentially the same as the M91/30, with a shortened barrel and stock, a rear sight graduated to only 1000 metres and a slightly modified front sight mounting.
The carbines were issued to artillerymen, engineers and other soldiers who while not front line troops may have need of a rifle. In this case, it was not felt that a bayonet was needed, and so the M38 carbine was not issued with one and was designed not to accept the M91/30 bayonet. However, the fierce close quarters combat of urban battles such as Stalingrad demanded a smaller and more convenient weapon. The M44 was born out of the simple brief to make an M38 with a bayonet.
The bayonet of the M44 is a permanently attached folding spike. The M38 stock was modified with a groove to accept the bayonet when folded, but beyond this there were no changes. By 1944, many M38 carbines were fitted with M44 stocks. While the M44 was in production since 1943, it never reached the desired level of issue, and saw most of it's action post-war. These Mosin-Nagant carbines were made by Seth Soldier.
---
Our winners for this week's screenshot competition is NotOnymous. You can view the winning submission here.
We are now accepting entries for the week of December 15th. If you think you have the best FH2 screenshot, post them href="http://fhpubforum.warumdarum.de/index.php?topic=16835.0">here.
---
That's all for this week, but be sure to come back next time for another update. Until then, feel free to visit our IRC channel, our public forums, and/or our Twitter and Facebook pages to discuss this update and other news.