Hello readers! It's been an interesting week in terms of iridescence 1.5 development!
I have a screenshot below to show what's being worked on. I personally think that when it's complete, this secret level will be pretty dang cool!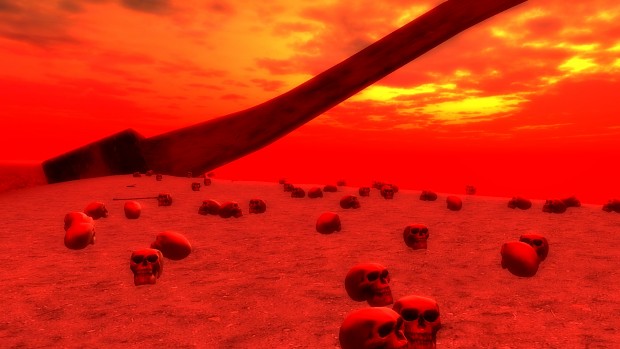 This level is themed off of one of the seven deadly sins, wrath.
I personally think it's coming along well! I added a small parkour segment (You know how much I like those) to get past the giant axe cutting the land in front of you. This is one of the levels that gives you some back story on the main character. There'll be 7 of these kinds of secret levels (Yes, to represent the seven deadly sins, obviously).
I've already talked about what's planned for 1.5 and beyond, so let's talk about what's been slowing me down.
As you may or may not know, I'm a fourteen year old kid who's in highschool. Naturally, this means I've got things to do. I recently got a volunteer position at a library, and I just got off of my shift today. I work four hours a day at the library cleaning computers and troubleshooting them, so I don't have
as much freedom to work on Iridescence as I'd like. Iridescence, as many of you possibly know, started as an incredibly simplistic atmospheric test, and evolved into something bigger. I'm honestly proud of it, and the people who've come by and made my day. Thank you all so much for your support on this effort. :)
Now, here's a collection of screenshots, new and old, for new readers to take a look at. It'd be more than highly appreciated if you went and checked out the game. It's currently in V1.4.5, so there's not a HUGE amount of content, but enough to wet your whistle. I hope you guys have a good day today, as much as I have.
Thank you all so much for being there for me. :