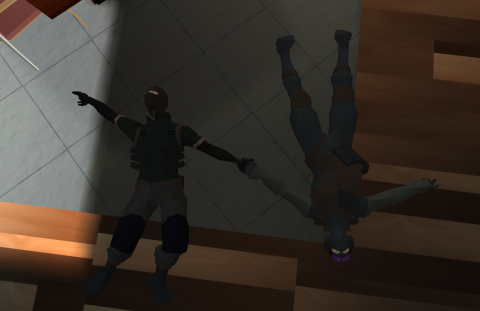 Don't miss the Intruder Tournament final match today at 5EST, 10GMT! On Twitch at Twitch.tv
This weekend will see the finale of Infiltration Inc., Intruder's 3v3 community tournament. It's been a long road in this double elimination tourny, with the first matches having been played at the end of September. Thirteen teams signed up, and the two that stand at the end of the bracket are Team Raven Shield and Men with Excellent Hats. Let's take a closer look at the teams themselves and how they've progressed.
In the case of Team Raven Shield, they've had numerous close matches, many of which were saved with come from behind victories. With that challenge they've become attuned to those pressure situations. I briefly spoke with LavaTramp, one of the team's members who stated, "It's been a nice opportunity to play some serious, competitive matches, you really get to develop team specific tactics." When asked about Men With Excellent Hats and their use of code words throughout the tournament he said, "The 3d voice chat really gives people the opportunity to mess with each other." I spoke with fellow teammate R3vo who had this to add, "I found out if I take the match too seriously I over think it and end up playing terribly. (It's) better just to take each match as a normal round."
As for Men with Excellent Hats, it's been a different story. They are undefeated in the tournament, which includes putting Team Raven Shield in the loser bracket, so they are the favorites going into the final. The key to their success thus far has been the development of new code words during the match, to throw off other teams if they watch their matches as well as the enemy team they're playing against. They're said to be taking the competition seriously and that's clearly worked for them so far.
My favorite aspect of this tournament is how it has garnered community interaction, not just between Superboss and the players, but between the players themselves. Teams scheduled their own matches with each other, and have helped make this tournament what it is. Thanks to all the players who participated, we hope you had a blast!
For those who haven't been keeping up with the tournament, there are ample resources to get caught up. You can visit the YouTube channel* which has all of the matches recorded and uploaded with commentary. The final itself will take place Saturday, December 6th and will be streamed on the Twitch page here*. Here's to a great finale of a successful tournament!
Twitch.tv
(This was a guest post by AcridMeat!)