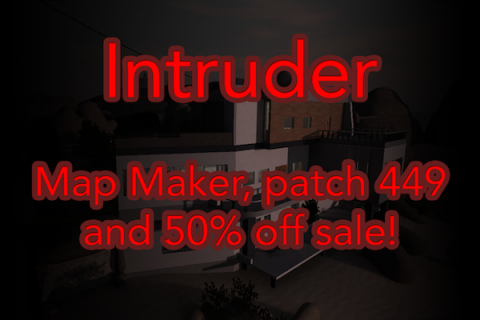 MEGA AWESOME HOLIDAY UPDATE
It's that time of year, where we unleash a huge update to Intruder, invite you to get involved in the creation of the game, and slash the price of the game! This is the largest ever update to Intruder, so read-on, get-involved, and spread the word!
Holiday Sale
First things first, we're running a sale on Intruder, and you can now get in on the early-access alpha of the game for the low-low price of $5, 50% off! And as if that's not enough incentive, we're also knocking an extra 5% off the price when you buy multiple giftcodes. We promise that this is the best value you're going to find when it comes to indie stealth multiplayer games, especially considering all the new features we've added (aha check below)!
So head over to the Intruder Store and get in on the sale while it lasts. Superbossgames.com
Big Feature Update
With patch version 449, we've made one of the largest single updates to Intruder ever. This update includes a ton of new art, animations, sound effects, particle effects, and tweaks to nearly everything. The art in the game still isn't "done", as we're still focused on the gameplay. But we've been having a ton of fun playtesting these changes with AUG. We've also been fixing bugs as we find them and as you report them, so keep it up! Every day your participation helps make Intruder better!
Here's a big listing of all the new features and changes in the latest patch:
link to change-log forum post (it's huge!)
Intruder Map Maker
And here's the big news! We want to invite you to make your own levels in Intruder, share them with other players, and play them in multiplayer matches! We got our start in game development by making maps and mods for games like Half-Life and Unreal Tournament, and we're super excited to let you do the same types of thing for Intruder. Since we're making Intruder in Unity, you can download Unity and use it to make levels too!
Check out this information about the Intruder Map Maker.
link to MapMaker forum post
Help Spread the Holiday Cheer
We're making Intruder for you, our community! Help spread the word about the mega update, holiday sale, and the map maker! Join in the conversation on the forum, IRC, Reddit, Facebook and Twitter!
Happy holidays, Trudaz