The twist here is the limited mid-air jumps. Every time you destroy an enemy you earn a mid-air jump, you can have up to three, and they will be all gone if you land on the ground. There are tricky jumps, like the one shown below, that are necessary to collect all stars. There are 10 stars per level, some are very tricky to get! Stars will allow you to unlock new levels.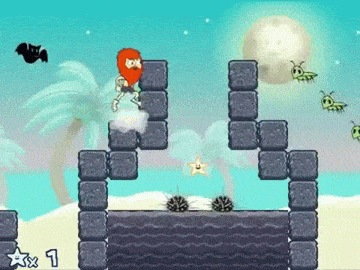 This is a very aerial, fast-paced game based on timing and precision! You can clear some levels without touching the ground, and only if you are clever enough, you will get all the stars. Definitively pretty fun and highly replayable.
The game just recently got Greenlit on Steam and we are working to improve and expand it a little bit before launching it. I'll be updating some progress here, stay tuned, thanks for reading!